Lutengano: I am inspired by society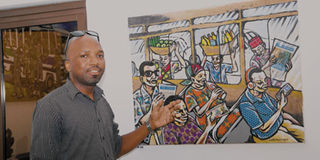 What you need to know:
Integrating the arts more fully into our lives enriches everyone, and because engaging in the arts brings individuals together, it fosters community.
Tanzania is home to several artists who eke a living of their creativity with their pieces which are timeless. And some of these pieces appreciate in value.
Integrating the arts more fully into our lives enriches everyone, and because engaging in the arts brings individuals together, it fosters community.
Through such delicate pieces, the timeline of our history is stored, for without art most of our past would be erased.
Lutengano Mwakisopile is a Dar es Salaam based artist who is famously known for his detailed artwork illustrated using multi-media collages and paintings.
At a recent exhibition themed 'Living life' at the Vipaji Gallery where he exhibited how certain elements of life such as poverty, happy and tragedy intertwine.
It was a journey into life as his work reflected the daily lives of a Tanzanian with pictures that showed food vendors at bus stations, students struggling to get on public transport and children playing as some of the special features.
He uses materials including fabrics such as kitenge and Kanga in highlighting human relationship with these mediums, creating admiration for the natural world.
Even without a formal training, his journey into art began some 24 years ago at the former Nyumba Ya Sanaa in Dar es Salaam.
He is considered to be a self taught artiste whose first formal art training in painting and drawing introduced him to the laws of painting and its techniques.
"I wanted to be a well-trained artist but I didn't have the basic skills except the passion. That's why I decided to join Nyumba ya Sanaa because by then it was the only place I knew I could get the training from the highly skilled artists.
At that time, it was home to great names such as the late George Lilanga who were among the first artists to work there.
He was later employed by Nyumba ya Sanaa, however he couldn't stay for long as he decided to pursue a solo career and that is how his journey as an independent artist started.
"I have a studio at Nafasi Art Space and ever since I started working as a painter and illustrator, I have taken part in many exhibitions, illustrated books and educational materials," he says.
As a part time artist whose work knows no boundaries his work involves the use of multi-media collages and paintings commenting on both rural and urban daily life.
These have taken him places such as Canada and Denmark, Kenya and Uganda where he has showcased his work.
"Working on multi-media collages and paintings has been an interesting experience as I use my work to express our day to day living environment and the challenges we face such as poverty, joy and tragedy. I enjoy drawing about issues speak about our Tanzanian experience," he says.
The industry has evolved with more artists getting the kind of recognition that they deserve, something that Lutengano believes is a signal for a brighter future.
"We have seen artist crossing borders to showcase their work, however there is still an issue of subject which leads to creating less attractive pieces. This can have a negative impact on artists especially in a society like ours where art is not valued."
Unlike abstract artists who take a lot of time developing a certain concept such work, his work revolves around what happens in our societies and can easily be understood by the community.
Though not many local people can afford to buy art pieces, the industry has grown over the years something that Lutengano attributes to the growing interest in arts.
According to the self taught artist the value of art is not in its size but more into the information that it relays.
"It might be a big picture but the price could be affordable compared to a small picture. No one can set the price on behalf of the artist except factors such as time he has spent on the work and his love for that particular work matters in determining the price of the art work," he says.
Even with the vibrancy of the industry at the moment, there are issues that Lutengano feels are making it lag behind when compared to other East African countries such as Kenya and Uganda.
"Dar es Salaam is a home to popular and big artists, but we don't have enough galleries to accommodate a number of multiple exhibitions."
According to him, Kenya has more than 20 art galleries in Nairobi alone plus others in cities such as Kisumu and Nairobi.
"The initiatives made by institutions responsible for the industry has not been enough because there are still some gaps. I believe it's time for our country to have our own national gallery just like it is in our neighboring countries especially now that the department of art is independent," he says.
He believes that if initiatives are made to encourage children at a young age to love art by teaching them while they are still in school the importance of arts it will help to make great difference in the future.