Vido Vidox and his magic charm behind the mic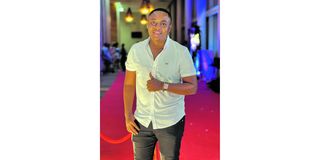 What you need to know:
Moving to Dar es Salaam, a new career in a new city led to a whole new adventure
In rare cases, journalists have traits that make their interviewees spill all the tea without a second thought. It could be based on the questions they ask or how they ask them. One of these journalists (aside from myself) is Victor Kileo alias Vido Vidox, an online presenter who works at Ayo online TV.
Vido's character is well known for his perkiness through multiple interactive interviews he has conducted with different personalities, especially in the entertainment industry.
Some of his works that have gone viral include his interview with singer Abigail Chams particularly when he asks her if she knew how to cook ugali.
"I love being a radio presenter and when a microphone is placed in front of me, I look at it with love and I perceive it as 'ugali wangu'," the 29-year-old explains the feeling that comes with being a journalist.
His journey began after he completed his diploma in Journalism at Udzungwa Mountains College in Moshi Region. However, his dreams of becoming a radio presenter began when he was in primary school at Kongwa Primary School where he would hold a stick, pretend it was a mic and interview some of his friends.
It was 2015 when Vido started working as a field student at a local radio station called Moshi FM.
"I was allowed to go on air during the night and I would talk about life and style, entertainment, and social issues. When the three months of working as a field student came to an end, the owners asked me to continue working there and I volunteered for about a year," he narrates.
As he was about to be employed full-time, Fiesta festivals, that are prepared by Clouds Media, began going countrywide and one of the first cities was Moshi. Victor was supposed to interview Millard Ayo to shed light on how people can perticipate in it.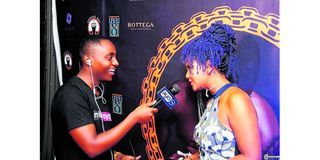 Having heard from one of his former workers that Millard was looking for a reporter in Moshi, Victor approached him after the interview and asked him about it. The two exchanged numbers and Millard told Victor to share with him news he saw fit to share on Millard's social media.
"I shared some a couple of times but not once did he respond to them. I knew I had to focus on my work at the radio station because my audience was growing. So I stopped writing to him," Victor details.
One day, he received a phone call from a new number. The voice on the other end was Millard's. Vido was not expecting to hear from him.
Millard asked him to cover the death of Dogo Janja's father as the funeral would be held in Arusha the next day.
"I did not know the place I was supposed to go, neither did I have a camera or mic to record with so I had to rent the two for a day." he unravels.
But Vido hid this from Millard Ayo as he did not know how to operate a camera at the time.
He reveals, "This left me with no choice but to use the settings of the person who had rented it to me. And so my journey to Arusha began."
When he arrived in Arusha, he asked people for directions and eventually he found his way to Ngarenaro where Dogo Janja's family is based. Since Millard had only requested pictures of people at the funeral, he kept taking shots in the way he saw fit.
Millard also shared an email address where Vido would send the pictures to. As he was wrapping up and planning to make his exit, something else caught his eye. This would be the very thing that secured a permanent position with Millard Ayo.
A short while after men at the mosque completed the burial rites, several trucks lined up to escort them to the gravesite. As people were struggling to get on board, Victor unknowingly recorded the video that would changed his life.
"Not only did Millard like the video, it garnered a great number of views in a short time. He also invited me to officially work for him. Shortly afterwards, I moved to Dar es Salaam and everything really got going. A new career in a new city led to an adventure," details Victor.
In his early days, He was assigned to monitor news and profile upcoming musicians from the studio and when he earned enough experience, he started going to the field but no one had prepared him for the field.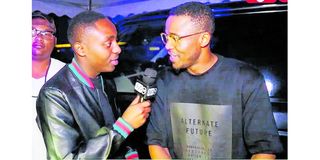 One day he got a chance to interview singer Diamond Platinumz about his then affair with Hamisa Mobetto and his nervousness crawled out.
"I got a chance to ask him the questions to his face but I was nervous and I asked my questions with a stuttering voice," he recalls.
Adding: "He then left and I was in a crowd of other journalists, some of whom were recording the whole scene. The video recording went viral and I was highlighted as the unprepared journalist. It was a lesson for me as much as it was also embarrassing. Some people, including Millard himself, reached out to encourage me to prepare myself better for next time," he says.
He further says, "Through my work, I have expanded my network to include people in different industries within and outside of the country whom I meet and work with while onground."
As for his advice to aspiring journalists, Victor emphasizes that they have a passion for the media industry before pursuing the career path.
"It's a career filled with challenges of all natures and most people who become successful in this industry have immense passion that sustains them through the bad and the good days. Their love and commitment to media lead them to pursue success in their chosen field," he explains.