Catherine's quest to transform women's lives through weaving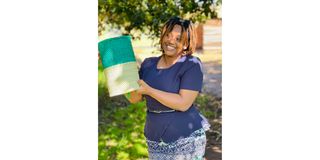 Summary
Vikapu Bomba, which translates to 'fantastic baskets', was established by Catherine Shembilu in 2011.
It all began as a gesture to assist her friend Lisa, who was living in Finland at the time, to buy gifts for her patients.
Iringa is famous for its woven baskets made of Milulu grass, which grows in wet areas in the region, including around River Ruaha. Mostly round-shaped, the baskets are known for adorning the roadways leading to and from the city of stones.
One of the weaving companies representing the region with its eye-catching baskets of different designs is Vikapu Bomba. The company is now building income for over 300 women in the region and at the same time introducing new basket designs such as basket lampshades, tote bags, and laundry bins that are sold both locally and internationally.
Vikapu Bomba, which translates to 'fantastic baskets', was established by Catherine Shembilu in 2011. It all began as a gesture to assist her friend Liisa, who was living in Finland at the time, to buy gifts for her patients.
The two met at Ilembula Hospital in Makambako, in Njombe Region, where Catherine was working as a therapy field student from Tumaini University and Liisa was volunteering as a psychiatrist.
When Liisa returned to Finland, she reached out to Catherine so she could help her buy various things such as bracelets and earrings made by Tanzanian women as a way of supporting their work. By so doing, she would also keep Catherine on her toes since she did not have a job at the time.
Among the things that Liisa wanted to buy for her patients included the Iringa baskets, which she had spotted during her volunteering time in Makambako. Catherine had to travel from her home in Lushoto, Tanga Region, to Iringa to purchase the baskets. When she arrived in Iringa and asked around, she was directed to the marketplace, where baskets were sold in mass.
After Catherine sent three batches of baskets to Liisa at different times, she noticed that the colour, designs, and sizes of the baskets were always the same and barely of good quality. It was also hard to size them for a simple fitting when it came to transporting them to Finland.
"I approached the person who was selling them at wholesale and asked him to talk to the women who made them about the size and improving the quality. He simply told me that he couldn't. He, however, gave me directions to Kilolo, where he said I could find the weavers."
Catherine discussed her worries with Laura and her idea for educating the women about the colours, designs and sizes of the baskets. Little did she know that the wholesaler had given her the wrong address because every person she asked about the women weavers in Kilolo told her that she was in the wrong village.
After a long search, Catherine met a young man who directed her to an old woman called Bibi Jack.
"When I expressed my intentions, she told me that most women had stopped weaving because there were no buyers. She said most people assigned them to weave baskets that they did not purchase at the end of the day," Catherine details.
They agreed that Bibi Jack would gather other weavers and together they would weave 50 baskets and that Catherine would come back with their money after three months.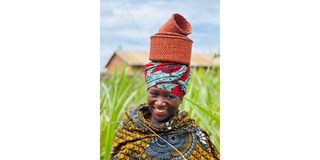 At the time, Catherine was working as an intervention coordinator and senior researcher with Muhimbili University of Health and Allied Sciences, the Johns Hopkins University, and the American University.
When she went back to Kilolo three months later, Bibi Jack had woven only six baskets. The other women had chosen not to weave because they did not believe she was going to come back.
"Bibi Jack sold these baskets for Sh6,000 each but I paid Sh18,000 for each basket because that is what she deserved for her work." Catherine's aim was to see these women get fairly paid for their hard labour.
After Bibi Jack's first payment, more women joined her, and the number went from one weaver to now over 300 women from Kilolo and Njombe districts.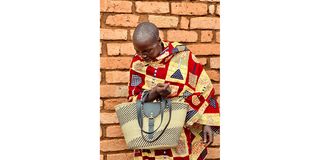 The agreement between Catherine and Laura was for Catherine to ship baskets to Finland three times in a year. However, Catherine decided to explore her own market aside from Laura.
"When the number of weavers increased, I knew I could not only work with these women three times a year. I wanted to sustain their excitement and finances through weaving, and to do that, I started coming up with other designs that eventually attracted more customers. After selling the baskets, I divide the sales in half.
"The other half covers payment for the business operations as well as other ornaments on the baskets, including leather and beads," she explains.
To connect the weavers and their customers, in 2014, Catherine started to put tags with brief profiles of the weavers on the bags so that customers would get to know and understand the women behind the beautiful baskets.
"This was such a good strategy for letting our customers see the person behind their purchased baskets," she notes.
In 2017, she quit her job and focused on developing Vikapu Bomba and the lives of the women weavers. The handwork of these baskets has enhanced their sales in and out of Tanzania. Catherine and her team have been able to ship the baskets to over 20 countries in the world, including the US, UK, Kenya, and Nigeria.
Maila Magelanga, 35, is one of the beneficiaries. She joined the weaving business in 2013, two years after it was established.
"Before joining Vikapu Bomba, I used to weave baskets that were used at flour mills. Before that, I was a farmer until I became paralysed from my legs to my toes. Weaving became my comfort activity because they say it is therapeutic. It took me a month to finish the other designs, and I can now finish a tote basket in a day or two, depending on the order. Through weaving, I have been able to educate three of my children, and I have bought land on which I am now farming avocados," she narrates.
Esther Kaduma, 40, and Imelda Wikunge, 23, who are mother and daughter are also beneficiaries of Vikapu Bomba.
A few months after Imelda gave birth to her son, Esther taught her how to weave in the hope that she would make money from it. Her son's father had decided to be out of the picture.
"I believed that weaving would help her support her son. Life was hard until we joined Vikapu Bomba in 2021. It took us a month to master the new designs. We now have a market for our baskets," says Esther.
Imelda details that, through her work, she has been able to buy land.
"I envision this company working with women weavers in Tanzania and beyond. "These baskets can create statements that highlight fond memories due to the history they carry," she details.