A chat with Tanzania's first female professor of Mathematics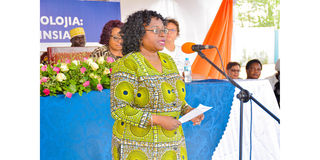 What you need to know:
The professor has been in academic teaching and research for nearly 47 years since April 1976
Meet Prof Verdiana-Grace Masanja, a woman with many titles. Prof Masanja is the first Tanzanian woman to get a PhD in Mathematics and the first female Maths professor in the country. She was also the first black woman from Sub-Saharan Africa to be enrolled in the Fluid Mechanics course at the Technical University of Berlin. Germany has played a big role in promoting females in Science, Technology, Engineering, and Mathematics (STEM).
Prof Masanja retired last year as a fulltime professor of Mathematics from the Nelson-Mandela African Institution of Science and Technology (NM-AIST) School of Computational and Communication Science and Engineering (CoCSE).
The professor has been in academic teaching and research for nearly 47 years since April 1976. She has been at the professorial rank for nearly 23 years since July 2000 as Associate Professor and Full Professor since March 2006. President Samia Suluhu Hassan appointed her to chair the Board of Governors of the Tanzania Forestry Research Institute (TAFORI) for the 2023/2026 period.
She was in higher education management for 24 years from 1994 to 2017, and retired from permanent tenure at 65. Apart from the University of Dar es Salaam, Prof Masanja has taught at universities in Rwanda, Finland, Kenya, and Uganda.
Her career journey started way back when she joined the University of Dar es Salaam in 1973 to do a Bachelor of Science in Mathematics and Physics.
"I still remember the very first day I entered my engineering mathematics class at the UDSM. The classroom was full of boys. I was the only girl, and young. The entire class whistled when I entered. They thought I had entered the wrong class as they believed the course was meant for boys only. With time they realised I was in the right place and that I was doing well," recalls Prof Masanja.
Upon her graduation in 1976, she was given an offer to remain at the university as a tutorial assistant because she had performed well. Her roles were to help the lecturer with marking exams and giving tutorials on Engineering Mathematics. She was offered two opportunities to be either the Physics or Mathematics tutorial assistant but she opted for Mathematics.
This gave her an opportunity to continue with her studies at the university where she did her Master's. Again, she was offered a job as an assistant lecturer. By the time she was finalising her degree, Prof Masanja had a second child. Balancing her career and parenting did not stop her from excelling in her career and studies.
She says when her late husband went to Germany for further studies, she too, was supposed to do her PhD studies at Cornel University in the US but she decided to do so in Germany.
"My husband had stayed in Germany for one year and a half and since I did not want to be in a long-distance relationship, I decided to join him. While in Germany, I was told that I was the first black woman from Sub-Saharan Africa to be enrolled in the Fluid Mechanics course."
She would have earned her PhD at the age of 28 but Prof Masanja says she lost almost two years and a half learning additional subjects and German before continuing with her studies."
Her gender and race turned out to be an obstacle. Many believed a black woman from a developing nation in Africa could not study a 'complex' subject. For that matter, it seemed no one was ready to be her supervisor. The professors she spoke to discouraged her from studying Mathematics saying it was difficult. They told her that even German female students couldn't pursue the course.
"I used to be number one in class and for the first time, I came across people who highly doubted my ability. I had a chat with three different professors, who discouraged me from pursuing Mathematics."
She lost hope and told her husband she was going to try one last time and that she would have to return to Tanzania to take care of their two children if the feedback would be the same. They had left the children in Tanzania.
Luckily, she got some good news that there was a professor who supervised a black student. She looked for the student who was from Nigeria, who connected her with the professor, and the rest was history. She made sure she worked hard in class to prove the doubting Thomases wrong.
Prof Masanja had her third and fourth children while in Germany and says she kept excelling in her studies despite having parenting roles. Overcoming challenges has always been a must for her, despite challenging environments. She says having children should not be an obstacle to career growth.
She acknowledges the importance of support systems in our communities in helping women fulfil their dreams. When she was working as a tutorial assistant for example, her house girl went home and never came back. Her boss allowed her to go to work with her child, which enabled her to continue working while parenting at the same time.
She says the majority of women with young children miss a lot of opportunities simply because the work environment is not conducive. This delays women's career progression. This prompted her to start making some interventions to help more women get friendly work environments.
She started by increasing women's participation in Science, Mathematics and Technology education in Africa soon after she was appointed chairperson of the Mathematics Association of Tanzania.
"We designed a project to strengthen the best ways of learning Mathematics for girls. Funded by the government of Ireland, the project aimed to empower teachers who would implement it in schools and started at the Korogwe Teachers College. It expanded to all science subjects and later to other teachers' colleges in the 1990s."
Prof Masanja has been a leader of national and international organisations and coordinator and advisor of projects for more than 32 years. Among her many roles, she was Vice President of the Africa Mathematical Union, Secretary of the Southern Africa Mathematical Sciences Association, Chairperson of the Forum for African Women Educationalists, Tanzania, and Coordinator of the Female Education in Science and Mathematics in.
Prof Masanja has played a big role in promoting females in STEM. She proposed policies or caused policy changes for gender equality and introduced gender equity programmes and initiatives in the areas of Mathematics education at all levels, research, innovation and postgraduate training.
She also has provided leadership in academic associations, women focused associations, and professional associations.
In 2000, the UDSM came up with a strategy to ensure girls get chances in their careers at least by 30 percent. "I was in the Faculty of Science as the Head of the Mathematics department. We came up with a pre-entry programme for girls. The programme aimed at enrolling girls with only two principles. We started with 25 girls with who we stayed with for six weeks."
The programme aimed at confidence-building skills in Mathematics while at the same time reminding girls of what they had learnt and exposing them more to the areas they never understood well.
"The programme did wonders as all the 25 girls performed well with either first or second upper classes and the majority remained at the UDSM. I happened to meet someone from their class and she told me almost the entire class got their PhDs," the professor proudly says.