Maria: Confidence, hard work essential for women to rise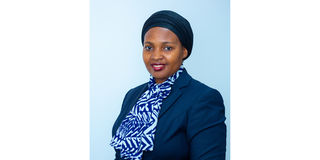 What you need to know:
Maria feels that when women recognise their powers in this era when things have shifted in their favour, the society will change; however, sufficient awareness must be raised
Dar es Salaam. Executive education coordinator at the Uongozi Institute Maria Kinyonge feels that if more women gain confidence and are willing to work hard, Tanzania will be a new community with many improvements.
She is in charge of popular programmes at Uongozi, such as the Women's Leadership Programmes.
Prior to joining the institution, she worked as a programme manager at Voluntary Service Overseas and in several learning and training positions at the International Training and Educational Centre for Health.
Ms Maria has 13 years of experience in the public and private sectors and is an expert in leadership development, project planning, and management.
She holds degrees from Sokoine University of Agriculture in Tanzania, the University of Bradford in the United Kingdom, and Aalto University Executive Education in Finland.
She has also received professional training from a number of organisations, including John Wiley & Sons, Inc. in the United States, where she was certified as an 'Everything DiSC' leadership profiling and facilitator.
Maria has portrayed and shown herself as a leader in various areas of her life, including her home, the communities in which she resides, church, school, and work.
She has developed her leadership skills throughout the years as a result of her capacity to envision her life, prioritise tasks, and put forth significant effort in growing herself and others.
"Building my own self-commitment, determination, confidence, and ambitions from what I want to do and also getting support from a more experienced person is what formed me through the years to become the person I am today," she says.
For Ms Maria, playing strategic roles allows her to encourage more women to know themselves as well as promote various programmes such as mentorship and coaching programmes to enhance women's capacity in many sectors.
"Having more women in positions, empowered, means we can create gender equality because, if you look at the facts right now, I am in the capacity-building stage, so I conduct this type of study on high-level leaders. Hence, according to the data, women's presence in this high position is very low, as seen by the ratio of ministers in Tanzania.Once you go to the district commissioner or regional commissioner level, you cannot compare the ratio to the level of directors. However, as an assistant director, you can find a lot of women just aiding managers," she says.
In addition, what they are doing through the Uongozi Institute is promoting and developing the capacity of middle-level women so that they might aspire to move up the corporate ladder.
According to Ms Maria, the reason why more women avoid the corporate ladder is a fear of taking risks.
"Someone may have the potential and capacity to do something, but we are afraid of taking risks. Furthermore, consider your level of confidence; most of us know a lot but lack confidence. We have this women's leadership programme, so we develop a kind of questionnaire asking them why they are afraid of taking risks, and most of them would tell you that they don't have the confidence to stand up in front of others," she says.
"Women, we have so many things to do at home that sometimes it is very hard to balance and tend them to live the work and go for the family."
Commenting on that, the lack of mentorship programs is also a major problem for women in achieving those higher positions.
"I think, in my opinion, we need to build more leadership programs and coaching programmes but as well as their capacity to increase their confidence and to tell them how to balance work and life," she clarifies.
For the country to attain gender inclusivity, Maria insists it's important to build capacity and increase women's presentation in leadership, especially when making decisions.
"If you look at the social and economic aspects, political aspects, and other aspects, you need to make sure there is inclusivity in any decisions. If you look at the 2025 national development plan, these women need to be inclusive in all aspects. I think it's time to be a big champion and know what the progress is and what steps have been taken so far. I think we need to do something, and for my position strategically, I think this is what we are going to do," says Ms Maria.
Speaking about mentorship, Ms Maria encourages women to look for this kind of support because, when it came to her success, it helped her to overcome the fear that is seen in most women.
She remembers that one of her mentors helped her with advice about the position she was competing for at the time, but she didn't believe in herself or think she was capable.
"I was scared, like I told you; most of us are just scared and lack confidence, but the mentor kept pushing me and telling me to try, and I did, and then I got the position; they play a big role in advisory."
Commenting on that, she said: "Mentorship plays a big role for women because they promote career development, so it's very important, and that's why at Uongozi they provide women with chances to find their mentors, and they're supposed to write a brief summary on their mentors like, how did you find your mentor? How do you interact with your mentor? What benefit did you get from your mentor? And will you use him or her in the future?"
Due to that, Maria explains that at the Uongozi Institute they have different women's leadership programs that provide a mentorship program and a coaching program in which they take women into different levels, encourage them to read, and connect them with experienced people such as politicians and people in the private sector so that they can gain more confidence.
Those programmes include emotional intelligence, risk management in internal controls, communication skills, the image of a public leader, leadership of public resources, a women's empowerment programme, negotiating skills programmes, and others.
Speaking about challenges at work and how to address them, Maria narrates that challenges are always there, and working with people of diverse backgrounds was hard for her.
"Human beings are made up of different characters and different habits, so whatever you want to achieve, there are people who will not always be with you and there is one who will be with you. So I faced these through my career path; the only way to overcome them is to learn how to deal with them. Now, before dealing with someone, I have to consider with whom I am dealing and apply emotional intelligence," she narrates.
When it comes to her secrets to success, Maria says they are being good at listening and working hard.
"Most of the people who look at me think I am coming from a wealthy family, but my background was hard and the road was not that easy. Having respect for everyone and understanding your position can make you something different, which helps me reach my success," she explains.
Adding to that, there are some moments in life where her parents were unable to afford bus fares, so she spent most of her time on teacher farms to get a little money to buy school staff, but her respect was paid to everyone at school and she was helped in.