Rising Woman Initiative 2023 sets its sights on more impactful storytelling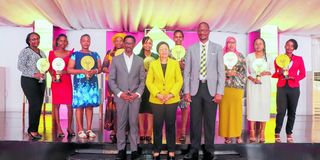 Summary
Mwananchi Communications Limited is embarking on another exciting two-month journey to shine a light on the successes and challenges women go through in their bid to climb the corporate ladder
The Citizen Rising Woman Initiative (RWI) is now in its third season, continuing with its dedicated vision of telling the amazing stories of women in leadership positions and thereby inspiring the next generation.
RWI 2023, with the hashtag "She Can," further echoes Mwananchi Communications Limited's slogan of "empowering the nation" through storytelling and other initiatives.
The idea that started in a boardroom is today a celebrated brand that highlights the true achievements of hardworking women in Tanzania and the men who are part of the process of bridging the gender divide.
As we officially launch the 2023 edition, RWI reporter Anna Potinus sat down with MCL's Managing Director Bakari Machumu for an overview of the past successes and what to look forward to in this year's edition.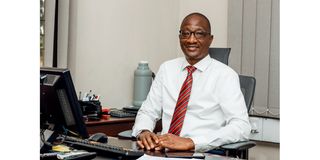 Mr Machumu said the three-year journey has been exciting despite the challenges. Looking back from when it was first launched to its current status, he cannot help but stay in awe of the resounding success that the initiative has become.
"MCL's contribution in pushing narratives that transcend women empowerment agenda is an addition which goes along with the company's slogan of empowering the nation," Mr Machumu said.
"Through showcasing stories of these brilliant women and what they do and how they encourage other women and other companies to put the women agenda in the fore front, MCL is making a difference in society," he added. Three years ago, MCL started a transformation campaign to assess the challenges it had as a company and identify the areas for improvement. This led to the launch of a slogan under the firm's four areas of focus.
"Those areas are called the four Ps, which are: purpose, people, processes, and products. The first P led us to come with this tagline and then amplifies the purpose to carry us in whatever we do. When we say we are empowering the nation, this should be in our DNA in whatever we are doing," says Mr Machumu.
Commenting on whether the media is doing enough to push the women's agenda, he said, "I think the media is doing enough under the circumstances. And may be to be clear, the gender dialogue includes both men and women and how we can better complement each other."
Mr Machumu goes on to state that both sexes have their own unique competencies, and this justifies that neither man nor woman can do it alone. "However, at some point a leader has to take affirmative action to bring more women into areas where gender balance is an issue, yet there are qualified women to hold such positions," he explains.
To him, when we talk about gender, there should be equity and equality. And with equality, you have to make sure all employees are treated the same and that no one is restricted because of their gender.
"Last year, MCL won an award for Best Employer of the Year in the gender equality category from the Association of Tanzania Employers, and among the criteria used to give the award was the fact that MCL does not discriminate against its employers when giving tasks. The aspect of equal opportunities for both men and women is something MCL is banking on in its daily operations," says Mr Machumu.
Mentioning the key lessons he has learned as a leader through this initiative and how it has shaped his perception of gender balance at work, Mr Machumu said, "When the initiative started three years ago, our female to male ratio was 4:1, meaning 25 percent of our staff were women and 75 percent were men.
In the senior leadership positions, we had zero females on our executive committee. Three years later, we are sitting at 42 percent female and 58 percent male. The move from 25 to 42 percent and the ExCom senior management committee from zero to 2 female managers out 8 to us is a bug achievement."
What to expect in the 2023 edition
The Citizen will continue covering the amazing, inspirational stories of women leaders. The goal has always been to profile as many women as possible in the two-month span of the initiative. As such, around 60 women will be profiled.
"We will continue to highlight some of the success stories and challenges women face and how to overcome them. We will use our print and digital platforms to reach a mass audience.
"One key guiding vision is taking the conversation beyond successful women and looking at our girls in schools and how they can start gaining the confidence to become successful," says Mr Machumu.