Sarah: Support is key to success in professional life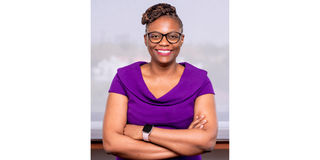 Summary
Her career as chartered accountant started when one of her professors at the University of Namibia took an interest in her studies and guided her through
Dar es Salaam. For many people, finding support and a mentor has never been an easy undertaking.
But Sarah Bisanda had the good fortune to have her father as her first mentor, who guided, counselled, and inspired her to pursue her goals.
The support of her father, according to Sarah, who is currently employed as an associate director at PwC Tanzania, was crucial in helping her become the accomplished professional she is today.
When she joined the university, she also found another mentor.
While she was still a student at the University of Namibia, a professor began directing her towards a career path that proved to fulfil her professional aspirations after noticing her aptitude in accounting.
"As I was doing my exams, assignments, projects, and research, the professor noticed my abilities. He then became my mentor throughout my university life by providing guidance and support," Sarah says.
She adds that it was through that mentorship that the professor guided her towards a career as a chartered accountant.
"I was only pursuing a bachelor's degree in accounting when this lecturer told me, 'Sarah, you need to become a chartered accountant'," she says.
She explains, "I took his advice, and now I'm a chartered accountant."
Sarah clarifies the concept of support mentors by saying that these mentors can be found anywhere, whether at home or at the workplace, and sometimes they can be a relative or a spouse.
Without the professor's guidance, Sarah reveals, she would not have been able to become a certified chartered accountant registered with the South African Institute of Chartered Accountants (SAICA), the Institute of Chartered Accountants of Namibia (ICAN), and a certified public accountant in Tanzania, registered with the NBAA.
Her career journey started at the PwC Namibia office, where she worked for 10 years. She then moved back to Tanzania, where she worked as Finance Manager at Shanta Mining Company (a Shanta Gold Mining subsidiary) for a period of one year, before moving back to PwC in the Tanzanian office in 2018.
While in PwC Namibia, she was privileged to receive sponsorship and support mentorship from the partners she worked with.
She started as a mere associate, but within three years she rose through the ranks to become an audit manager, and in 2013 she was promoted to senior manager.
This would not have happened without the support she received through the mentorship programme from the partners she worked with.
When she entered PwC Tanzania as a senior manager in 2018, she received the same support and sponsor mentorship from the Partners; she was then promoted to associate director in 2021.
Throughout her career, the mentors have been both males and females.
"One cannot succeed or grow in their careers without support and mentorship. We need mentors to raise, groom, empower, direct, and show us the path," she says.
Despite the fact that she believes more in support and sponsor mentors, she also believes in training that helps women and men be better versions of themselves.
"Through these training sessions, I am investing in myself both healthwise and mentally while also building my knowledge base," says Bisanda.
Each of us has different challenges that obstruct our growth, she says. But eventually, in the end, we find a way to go through those challenges.
According to Sarah, her greatest challenge is balancing her schedule between work and personal life (which includes children, family, and church).
She says that incorporating her life on the calendar helps her manage time in all aspects of her life.
Her work demands are all placed on the calendar and on a daily basis, as she is able to plan her deadlines and work achievements accordingly.
"I love working with my calendar because it really helps me to manage and see exactly what I am doing and with whom I am meeting. So I am always finding ways to make sure there is a balance," she details.
When it comes to work and normal life, she can't compromise ethics as she's an ethical person.
She further says; "To get to the top demands time and energy. You will find that you spend more and more time in the office trying to deliver.
A lot is expected of an ambitious woman, and that comes with its own pressure. You need a support system—a family that will support you professionally and encourage you to grow in your career.
Even stay-at-home mothers need a support system from their families as they have chosen to invest their time and knowledge in raising their children," explains Bisanda.
Women have so many responsibilities. They have to learn to juggle, and failure to do so can lead to under performance at work. It is also the main reason why few women rise to the top in their organisations, she argues.
"Women have responsibilities at home, in extended families, and in the community at large. Without a good and strong support system, it is difficult to succeed. If you have a strong support system, then your plans and performance at work will also be acknowledged and seen," she says.
To the young girls, Sarah encourages them to find mentors who empower them and help them grow into strong career women.
Mentors who can give advice on professional development as well as promote the qualities they possess in order to help them advance in their careers.
Each young person should identify people who can support their growth and their life choices. At every step of their lives, they should ensure they make an impact on the people around them.