Sarah: Why there aren't many women in management roles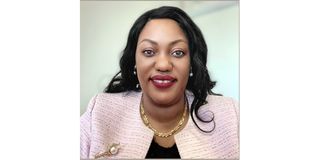 Summary
Many women think that they have to have all the experience to qualify for the job, despite the fact that they meet most of the qualifications
Dar es Salaam. Without self-confidence and self-esteem succeeding in the highly competitive professional scene is difficult for anyone. And yet these are the very attributes that many women at work places lack, which relegates them to the lower rungs in corporate offices and helps in retaining boardrooms and executive wings as exclusive boys' clubs.
But Sarah Laiser, the head of compliance and regulatory affairs at the National Bank of Commerce (NBC) Limited, says this needs to change.
Not through some mass or strongly enforced affirmative actions but through getting women professionals understand that they can performed as well as anybody if only they believed in themselves.
"There was a time I advertised a management job position. Since I am an advocate of women empowerment, I thought many women would apply. Alas, they didn't," she recounts.
Brushing aside the disappointment she wasn't ready to see women stay behind, she says. She, then, reached out to some of the women she knew who had the potential to fill the position. But they were reluctant to submit their applications because they were not sure of themselves.
"They expressed vivid doubts that they don't qualify for the position. You see. It's the women who don't believe in themselves," she said during an interview with The Citizen Rising Woman.
The problem with many women she has met is that they think they have to have all the experience to qualify for the job, despite the fact that most of them have enough qualifications.
"All that women need to have are talents and self-esteem," she notes.
Sarah's career path in the banking industry is a tale of self-esteem and the belief in her ability to deliver. It is also a story of what mentorship and coaching can achieve in shaping women's careers.
Her love for banking started when she was still a little girl in Arusha.
She met a mentor who guided her through the years and helped ensure that her dreams become a reality.
"When I was in Arusha, I used to go to banking halls where I really admired how efficiently the staff carried out their duties," she narrates.
She adds that she chose one branch manager to be her mentor as she was the person who impressed her the most among the many banking workers, she said.
This is probably what led her to join the Institute of Accountancy in Arusha for an Advanced Diploma in Accounting (ADA).
And when she joined the college her leadership attributes quickly became obvious when she became, in 2000, the first female vice president of students' government in the college history.
The former US First Lady Michelle Obama is also an external mentor to Sarah.
She says that Ms Obama statement, "There is no limit to what we as women can accomplish" has inspired her tremendously and has increased her determination to groom other women.
"I am a strong woman; a go-getter. I am also a change advocate. These attributes enable me to help empower my fellow women," she says.
"Honestly, it's our responsibility, as women, to empower other women and help them climb the corporate ladder," she adds.
Sarah in board meetings she feels compelled to represent other women, who most of the time, can't have their voices heard in the male dominated c-suites.
For 16 years Sarah has held various positions in several commercial banks in the country. Her roles have been mainly in the fields of compliance risks, financial crimes, forensic investigations and operational risks.
Sarah holds an MBA in Finance from Coventry University in UK and an international diploma in banking risk management. She is also a certified compliance risk specialist.
She also currently serves as an appointed member of the Tanzania Bankers Association's Risk and Compliance Technical Committees.
Women professionals have to create a functional work-family balance to able to excel in workplaces. Sarah says she is lucky that has had a supportive family that has made creating a balance easier.
Her family relieves her of some of the chores that could have occupied her, which gives her the opportunity to spend more time with the family members. She has also found a way to leave work files at the office, which given her enough time with the family when she arrives at home.
"That has enabled me to become a proper mother and a proper wife at home and a good manager in the office," explains Ms Laiser.
"A woman needs a good supportive system in order to grow professionally. The challenge comes when a woman is supposed to fulfil all traditional roles of a woman in the house," she says.
Sarah also feels blessed due to the fact that her current employer values the role of women in pursuing organisational goals.
"The good thing at NBC is that there are initiatives that have been put in place in terms of women empowerment, mentorship and coaching. So, I will exploit these initiatives as much as possible to empower women," she says.
She advises young women to be courageous and passionate in whatever profession they find themselves in.
"My advice to girls aged 18 years is that they should be courageous, passionate and confident in order to fulfil their dreams. They should avoid being let down by circumstances. The emphasis should be on hardwork," she clarifies.