Abrielwise Kiliyinga: A young aspiring pastor with a vision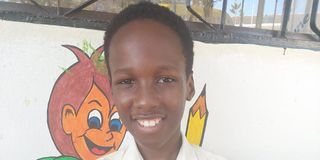 What you need to know:
Meet Abrielwise Kiliyinga, an 11-year-old grade six pupil at Makini Primary School in Dar es Salaam, who aspires to become a pastor
In a world where children are often pressured to pursue traditional career paths such as doctors, lawyers, architects, and engineers, there are still those who are courageous enough to dream differently.
Meet Abrielwise Kiliyinga, an 11-year-old grade six pupil at Makini Primary School in Dar es Salaam, who aspires to become a pastor.
Inspired by biblical prophets, his parents' pastoral work with Christ Embassy Church, and the guidance of his father's spiritual mentor, Dr Chris Oyakhilome, Abrielwise is determined to follow a unique path.
Dr Oyakhilome is the General Overseer of the Christ Embassy Church and an influential figure in the Christian community all over the world.
Abrielwise's journey to becoming a pastor began with his deep admiration for the biblical figures who served as God's oracles.
As he delved into the stories of prophets like Moses, Elijah, and Isaiah, he was captivated by their unwavering faith and their ability to communicate godly messages to the people.
These stories ignited a passion within him to follow in their footsteps and serve as a conduit between God and humanity.
His parents, Reverend Abraham Kiliyinga and Pastor Annette Kiliyinga have been playing a pivotal role in shaping his understanding of faith and guiding him on his spiritual journey.
Their dedication to spreading the word of God has inspired him to pursue a similar path.
Abrielwise's teachers, Peter Ngugi, Francis Ngatunga, and Patrick Mwathi, have also played an instrumental role in nurturing his aspirations.
Their motivation has given Abrielwise the confidence to pursue his dreams enthusiastically.
Abrielwise believes that parents have a critical role in fostering their children's talents from a very early age.
"A parent is a child's first teacher. Parents need to pay attention to their children's interests and passions, even if they deviate from traditional career paths," he says.
Abrielwise asserts that parents can foster their children's talents by providing the necessary support and guidance, in the exploration of their unique gifts and talents.
To his fellow pupils, Abrielwise offers a simple yet profound piece of advice: "Put God first in everything you do."
He believes that prioritising one's faith and seeking divine guidance makes every dream achievable.
"I encourage my fellow children to embrace their individuality and pursue their passions fearlessly, knowing that with God's grace, anything is possible."
Besides his spiritual pursuits, Abrielwise is also academically gifted. He excels in all the subjects but his favourite is English.
As he continues on his journey towards fulfilling his calling, Abrielwise reminds us all of the importance of following our hearts.