Buthelezi: Warlord who became African wily politico and strongman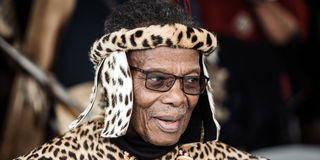 When Zulu Prince Mangosuthu Gatsha Buthelezi passed away on Saturday, South African President Cyril Ramaphosa described him as an "outstanding leader in the political and cultural life of our nation."
Buthelezi, or Prince Buthelezi as he was known, is one of the most enigmatic characters to have wielded both traditional and modern political power in Africa. His death may have been at a ripe old age. His life? Two sides of a coin.
In his time, he was a shoulder-to-shoulder fighter with the likes of Nelson Mandela and Walter Sisulu, through the 1950s Youth League of the African National Congress (ANC). That was when the 'young lions' of anti-apartheid movement turned to armed struggle. Yet he later became a hate-figure for the ANC, accused of collaboration with the apartheid regime and its system of racial oppression.
Born on August 27, 1928 in rural Zululand, now KwaZulu-Natal Province, Buthelezi had only recently celebrated his 95th birthday.
He had been active in politics, both in political party terms and traditional leadership, all his adult life, though frequently incurring controversy for his fiercely independent viewpoint.
During the final stages of the apartheid era, Buthelezi and his Inkatha Freedom Party came into open conflict with the ANC. It represented the mainly older, conservative, and rural traditional elements among the Zulus, the largest ethno-linguistic grouping in South Africa at the time.
While the ANC was whipping up international support for sanctions and disinvestment to help end apartheid, Buthelezi argued these were, "worse for black South Africans than apartheid itself", citing negative impacts on the economy, jobs and quality of life.
As the Chief Minister of an apartheid-era 'black homeland', then called KwaZulu, Buthelezi was painted in some quarters as an "apartheid stooge", though he vehemently rejected that, insisting that he merely had a different perspective to the ANC and its allies.
But these political differences led to outright conflict, with an estimated 12,000 deaths due to fighting between supporters of Inkatha and the ANC which escalated through the late 1980s and into the mid-1990s.
Even into the 2020s, there is ongoing hostility between the two political formations, with Inkatha – from which Buthelezi also recently resigned as party leader – making a resurgence in KwaZulu-Natal while the nationally-ruling ANC suffers internal squabbles and dwindling support there.
In his later years, Buthelezi's demeanour softened and he became more peace-maker than war-lord.
In 2021, during the pre-inauguration of the current Zulu King Misuzulu kaZwelithini, third-oldest son of deceased Zulu King Goodwill Zwelithini kaBhekuzulu, Buthelezi played a key role in calming tensions driven by rival claims to the Zulu crown.
Yet Prince Buthelezi was a complex character who was capable of being warm and endearing, engaging and intellectual. He could also, sometimes switch abruptly from those modes to grumpy and scary.
He is famed for having given the world's longest legislative address, at Ulundi in the 'Zulu homeland' of KwaZulu.
Buthelezi spoke over more than two weeks in the KwaZulu legislative assembly, between March 12 and 29, 1993, rising on 11 of those 18 days when the legislature was in session, and averaging nearly two and a half hours of speech on each occasion.
Covering this figure through the tail end of the apartheid era was not easy. For one thing, his Guinness World Record making of his outing before the KwaZulu legislature was only one of many similar. For reporters covering his rambling and extended verbal dissertations, much delivered in his beloved isiZulu, it was difficult to say exactly what had been said.
He frequently seemed to have, in the words of one correspondent, both said "everything and nothing", at the same time.
As recalled by one, struggling to stay with the great many cross-relating points being made meant such assignments were a significant endurance test.
Some wrote off Buthelezi's wordiness as merely an addiction to the sound of his own voice, but that was vastly to underestimate this consummate politician.
At an event in Cape Town between the imminent end of apartheid and the dawn of the 'democratic era', Buthelezi spoke to the collected world media. Most of those speaking, including cabinet ministers, were brief, and fielded numerous questions.
Buthelezi was largely unknown but a majority of foreign correspondents 'parachuted in' to cover these proceedings considered him a legend. His prickly demeanour and, to foreign ears, a difficult accent in perfectly-formulated English sentences, but which never seemed to conclude, grammatically or logically, left most colleagues bemused and wary.
After a lengthy silence, following an annoyed answer to some tentative probing, and with no colleagues apparently being prepared ask the difficult questions, I posed to the intimidating Zulu Prince: "Chief Buthelezi, can you speak to the role of Inkatha and its leadership in the violence we are seeing?"
That seemed too direct for comfort, for Prince Buthelezi used to receiving more indirect and submissive attitude in his presence.
His visage darkened, and in what might be described as a barely restrained roar, he issued a lengthy answer that, as usual, dodged the question.
I followed it up: "What about allegations that your impis (Zulu fighters) are receiving arms and support from the (apartheid) government?"
He angrily glowered back, mumbled something not quite audible in isiZulu – it did not have the tone of a compliment – and offered some half-sentences on how he knew nothing about any of that, and it was all propaganda.
He then moved on to a hapless fellow fresh from London, who apparently had no desire to earn the perhaps deadly wrath of the Chief Minister, as then he was, asking in consequence a meaningless softball question.
The press conference broke up immediately thereafter under the watchful eyes of his minders.
Later, I was told that Buthelezi was not well pleased by the 'cheeky boy' who had rudely asked him such blunt questions.
Aside from the writer's then youthful appearance, from the perspective of a Zulu royal household member, traditional adviser and Prime Minister to the Zulu King, the questions asked may well have seemed 'cheeky'.
Colleagues were shocked that anyone would be so "in his face" with such tricky queries.
The reply was that there was nothing to lose: Buthelezi either spoke until those present were only too pleased to escape – as described, a wily fellow – though perhaps not quite sure exactly what to report, since what he said always seemed to chase itself around the block and eat its own tail.
Or someone asked the relevant questions.
"Yeah. But now he wants you dead," said one smirking North American colleague.
That seemed a wild exaggeration – but for a moment there, if looks could kill...
Buthelezi's funeral has yet to be announced. Ramaphosa said his government will consult his family on burial plans.