Cargo ship briefly grounded in Egypt's Suez Canal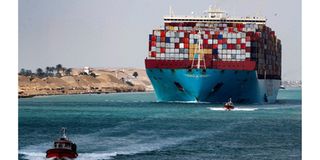 A cargo ship ran aground Thursday in Egypt's Suez Canal before it was quickly refloated without interrupting traffic, the authority in charge of the vital waterway said.
The Hong Kong-flagged Xin Hai Tong 23 bulk carrier was refloated after "a sudden malfunction of the machinery" while it was crossing on its way from Saudi Arabia to Egypt, the Suez Canal Authority said.
The authority, which oversees the waterway that accounts for about 10 percent of global maritime trade, said three tugboats and a marine rescue team were sent to refloat the vessel.
It added that the Xin Hai Tong 23 measures 190 metres (208 yards) in length and 32 metres in width, with a loading capacity of 34,000 tonnes.
Norwegian maritime website Leth said the vessel had been refloated shortly after it ran aground.
In March 2021 the giant container ship Ever Given caused a nearly week-long backlog in Suez traffic after it became lodged diagonally in the waterway.
The disruption cost billions of dollars in shipping delays as it halted crucial trade through the canal, with Egypt losing between $12 million and $15 million for every day of the closure.
The canal is a major source of much-needed foreign currency for cash-strapped Egypt, earning it $8 billion in transit fees in 2022.