DR Congo has hired foreign mercenaries, says Rwanda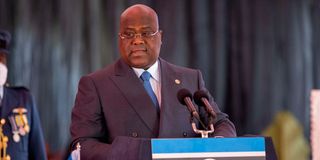 Diplomatic tensions between Rwanda and Democratic Republic of Congo are set for a new low after Kigali accused Kinshasa of undermining ongoing regional efforts to bring stability to the eastern part of the country.
In an apparent escalation of tensions, on Thursday, Kigali alleged that Congo was preparing for war by hiring foreign mercenaries. 
Rwanda alleges that Kinshasa continues to provide weapons and its forces are fighting alongside illegal armed groups in eastern DRC including the genocidal militia FDLR (Democratic Forces for the Liberation of Rwanda).  
"This also constitutes a clear violation of the Nairobi Process, which is aimed at disarmament and demobilisation of these armed groups, and a threat to Rwanda's security," reads the statement issued on Thursday.
'Blocking development'
The statement came a few hours after Congolese President Félix Tshisekedi told business leaders at the ongoing World Economic Forum (WEF) in Davos, Switzerland, that Rwanda is "blocking development in the region" and that M23 rebels have not withdrawn from recently seized positions despite international pressure.
"They pretend to move, they act like they are moving, but they're not. They're simply moving around, redeploying elsewhere, and they stay in the towns that they have captured," Tshisekedi said in a panel session at the WEF. 
Kigali alleges the staged demonstrations against the EAC Regional Force in Goma and other parts of the DRC constitute part of a plan by the DRC military and government to exit the Nairobi and Luanda peace processes. 
It added that the goal of the demonstrations appears to be aimed at causing the departure of the force, whereas the Luanda Communiqué calls for "continued full deployment of the EAC Regional Force".