Nigeria's president-elect extends hand to rivals disputing vote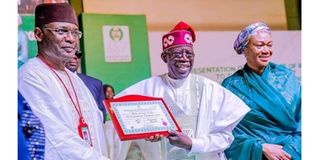 Summary
The 70-year-old former Lagos governor was declared winner of Saturday's presidential election
Lagos. Nigeria's president-elect Bola Tinubu on Wednesday called on his rivals and their supporters to "join hands" with him, after a contested election with opposition parties looking to challenge a vote they say was tainted by fraud.
The 70-year-old former Lagos governor was declared winner of Saturday's presidential election, securing his life-long ambition of heading Africa's most populous nation.
With President Muhammadu Buhari stepping down in May after two terms, many Nigerians hoped the vote would usher in a leader capable of tackling growing insecurity, righting the economy and easing poverty.
The final results gave Tinubu, candidate of the All Progressives Congress (APC), 8.8 million votes against 6.9 million for opposition Peoples Democratic Party (PDP) candidate Atiku Abubakar.
The Labour Party's Peter Obi notched 6.1 million votes, confirming his success as a surprise third candidate.
The Independent National Electoral Commission (INEC) confirmed Tinubu as president-elect after he secured the required number of votes across two-thirds of Nigeria's states -- a rule meant to ensure broad representation.
But the February 25 election was marked by long delays and the slow arrival of online results, angering voters and opposition parties who claimed massive vote-rigging.
"The purported results did not meet the minimum criteria of a transparent, free and fair election," said Obi's running mate, Yusuf Datti Baba-Ahmed.
"We will go to court," he said, while urging supporters to "remain peaceful and calm".
Candidates who want to contest the election have 21 days following the announcement of results to bring their case to the courts.
At a ceremony on Wednesday where Tinubu was handed the official certificate stating he won the election, he asked his opponents "to come in so that we may begin the task of rebuilding our national home together".
"I ask that you not allow the disappointment of this moment to keep you from realising the historic national progress we can make by joining hands and hearts in common endeavour to pull this nation through," said Tinubu, a Muslim from the southern Yoruba community.
The long-time political kingmaker had campaigned on his experience as Lagos governor from 1999 to 2007, charging ahead with the slogan "It's my turn" to govern Africa's largest economy.
But his promise of reviving hope was attacked by rivals, who questioned his health, past graft accusations and ties to Buhari, who was criticised for failing in his vow to make Nigeria safer.
Mixed reactions greeted Tinubu's election victory on Wednesday.
In the northern city of Kano, some residents celebrated the news.
"I'm delighted that Tinubu has won the election despite the challenges and gimmicks by the opposition in trying to scuttle the election by calling for its cancellation," said butcher Anas Ibrahim, 32.
Elsewhere, other voters were angry, expressing concerns over how the INEC managed the tallies.
"The INEC chairman has failed to make the results transparent. Nobody is happy... we are definitely going to court. Tinubu can't be the president," said Edwin Oluma, 23, a student in the capital Abuja.
The election was a tight race for the first time since Nigeria ended military rule in 1999, after Obi, 61, drew many voters with a message of change.
He scored a major victory in Lagos, Tinubu's traditional bastion.
Abubakar, a 76-year-old businessman and former vice president, lost his sixth attempt at the presidency.
Saturday's voting was mostly peaceful but was troubled by long delays at many polling stations, technical problems and some intimidation by thugs.
Observer group Yiaga Africa estimated that, based on the number of people who successfully registered on the day of the vote, turnout was just over 29 percent.
The United States congratulated Nigerians and Tinubu, State Department spokesman Ned Price said Wednesday, while acknowledging the discontent among some voters over the outcome.
"Nigerians are clearly within their rights to have such concerns and should have high expectations for their electoral process," Price said, urging political leaders to register their concerns through established legal "mechanisms".
"We call on all parties to refrain from violence or inflammatory rhetoric at this critical time," he added.
The INEC introduced biometric voter identification technology for the first time at the national level as well as IReV, a central online database for uploading results to improve transparency.
But opposition parties said failures in the system to upload tallies allowed for ballot manipulation and disparities in the results from the manual counts at local polling stations.
International observers, including from the European Union, also noted major logistical problems, disenfranchised voters and a lack of transparency by the INEC.
The INEC dismissed accusations of a tainted election, asking political parties to "allow the process to run its course" and take their claims to court.
The expectations facing Nigeria's next leader are huge, from a grinding Islamist insurgency in the northeast and bandit militias in the northwest to a sickly economy.
Although Nigeria is Africa's largest oil producer, the country imports nearly all its fuel due to a lack of refining capacity and spends billions of dollars per year subsidising gasoline, an unsustainable cost that Tinubu has promised to scrap.