South Africa military deploys across the country as opposition strike looms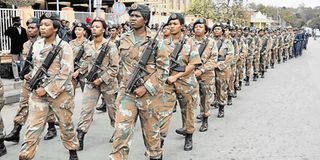 Johannesburg. South Africa's army said Friday it will deploy troops to guard key infrastructure and reinforce law enforcers ahead of next week's nationwide opposition strike to demand President Cyril Ramaphosa's resignation.
The country's third largest party, the radical leftist Economic Freedom Fighters (EFF), has called for a "national shutdown" on Monday.
It is demanding that Ramaphosa step down over his handling of the country's sickly economy, electricity shortages and stratospheric unemployment.
The South African Defence Force said it was "tasked and authorised... to render assistance" to the police.
The army -- which will deploy from Friday for a month -- will protect "national key points under threat as per prevailing intelligence/information on hand", it said.
Soldiers will also respond to "situations which go beyond the control of the law enforcement agencies".
Ramaphosa on Thursday warned that "disorder and anarchy will not be allowed".
The EFF has called on South Africans to avoid going to work and school or operating business on the strike day.
Party leader Julius Malema has said that ports, parliament, border crossings and the Johannesburg stock exchange building among others will be targeted as key picketing points.
Some businesses and schools have voiced concern about operating on the protest day and others have already opted to pull down their shutters.
The army did not give numbers of troops to be deployed.
But deadly riots and looting that struck the country in July 2021, sparked by the jailing of former president Jacob Zuma, prompted the deployment of some 25,000 troops to assist overwhelmed police.
The unrest killed at least 350 people in the worst violence since the end of apartheid in South Africa.