US governor defends ban on African American history course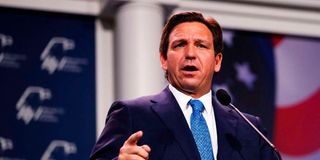 The Republican leader of the US state of Florida defended his ban on an African American studies course Monday, railing against its pushing of "social justice" topics such as "queer theory."
"We want education, not indoctrination. If you fall on the side of indoctrination, we're going to decline. If it's education, then we will do (it)," Governor Ron DeSantis, who is considered one of the favorites for his party's 2024 presidential nomination, told reporters.
"This course on Black history: what is one of the lessons about? Queer theory. Now who would say that an important part of Black history is queer theory? That is somebody pushing an agenda on our kids," he added.
The class covers more than 400 years of African American history and is being rolled out as part a nationwide "advanced placement" program giving high school students the chance to take college-level subjects before graduation.
But Florida's Department of Education has objected to the inclusion of "Black Queer Studies" and topics such as Black feminism and the alleged promotion of critical race theory, an academic discipline investigating systemic racism in American society.
Officials have also complained about its approach to the debate over reparations -- the argument for compensating Black Americans for slavery -- telling organisers the program violated state law and rejecting its inclusion in Florida schools.
DeSantis has seen his political stock rise following a big election win in November and he is now considered former president Donald Trump's main rival in the race for the 2024 Republican nomination.
He has gained support on the right for his hardline stances on "culture war" issues such as public health restrictions during the pandemic and alleged "woke" indoctrination in education.
He argued Monday that the purpose of education was the "pursuit of truth," and not to use schools as "an instrument of what they consider social justice and social change."
"We believe in teaching kids facts and how to think, but we don't believe they should have an agenda imposed on them," DeSantis said. "When you try to use Black history to shoehorn in queer theory, you are clearly trying to use that for political purposes."
The decision to block the course has been met with outrage from the American Civil Liberties Union, which said DeSantis had "no right to censor speech he disagrees with" while Vice President Kamala Harris said at the weekend anyone banning teaching US history "has no right to shape America's future."