India targets $6 billion trade volume with Tanzania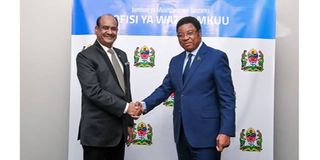 What you need to know:
The trade volume was estimated at $4.58 billion last financial year
Dar es Salaam. India is targeting to increase the volume of trade with Tanzania to $6 billion this year by scaling up investment and increasing duty-free goods. The Asian country is also in discussions with Tanzania about the possibility of allowing the respective local currencies to be used in purchasing goods in the two countries to stimulate the growth of the bilateral businesses. The trade volume was estimated at $4.58 billion last financial year.
The Indian High Commissioner to Tanzania, Mr Binaya Prathan, said negotiations with local banks are expected to begin this year. "Last year was a good year for business engagement. Several investment agreements have already been made, whose implementation will start this year. So, we see this year being better because Indians have increased their purchases of products from Tanzania, especially avocado," said Mr Prathan.
He was speaking yesterday during a session in which he provided an assessment of the bilateral relations between the two countries for the past year. He also offered a projection for 2023. "There are only three Indian banks operating in Tanzania, so part of the plan is to convince more banks to open branches here. We are doing this to eliminate the foreign currency barrier and make doing business easier and transactions cheaper."
According to him, plans are underway to invite Indian companies to invest in industrial parks. "We thank the government for continuing to create a conducive environment for people doing business in Tanzania," he said. Mr Prathan added that an office was opened in Zanzibar to make visa availability easier for those who wish to visit India. In the health sector, both countries signed an agreement last year to set up Apollo Hospital in Tanzania.