Beverage firm urges CNG use to reduce carbon emissions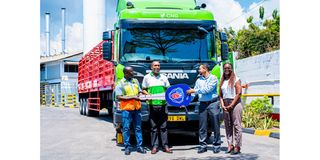 Summary
The company yesterday received its first CNG-powered truck, which it had purchased from Scania Tanzania Ltd. to lower emissions and strengthen its sustainable transport system
Dar es Salaam. Coca-Cola Kwanza Ltd. yesterday called for the government to speed up the construction of the infrastructure for the Compressed Natural Gas (CNG) filling stations to convince companies to abandon the use of fuel in a wider effort to provide cleaner and more affordable types of energy.
The company yesterday received its first CNG-powered truck, which it had purchased from Scania Tanzania Ltd. to lower emissions and strengthen its sustainable transport system.
Speaking at the handover ceremony, the logistics director for Coca-Cola Kwanza, Mr Haji Mzee, said based on their pilot study, the use of natural gas will cut their operational costs by 27 percent on every trip to and from Morogoro.  
So far, there are only two filling stations located at Ubungo and Tazara, a trend that, according to Mr Mzee, has sometimes been causing long queues.  
In what could be described as a breath of fresh air, Tanzania Petroleum Development Corporation (TPDC) said four weeks ago that it had issued the green light to 20 companies to construct CNG stations. Mr Mzee said that natural gas-powered trucks are not only more energy efficient and environmentally friendly but also more economical to run. "We use our industry leadership to be part of building a more sustainable future for our planet," he asserted. "People matter. Our planet matters. Profitability is important, but not at any cost."
Business development manager for Scania Tanzania, Eliavera Timoth, underscored that Scania was convinced that CNG is a sustainable option for Tanzania that is available here and now. 
"By running the transport on CNG, we can use the cleanest drivelines with the lowest emissions, creating cleaner air," she said.  On the global scale, Ms Timoth said, 1 out of 8 deaths is caused by poor air quality, where emissions from transportation are a large contributor.
Describing the benefits of CNG, she said, "CNG is a local fuel, creating local jobs. Today, one of our largest imports is diesel. By running on local fuel, we reduce the foreign exchange."
Awareness of the benefits of using CNG to power vehicles is gaining momentum in Tanzania, and thus, service providers now find it hard to keep pace with growing demand.
Available numbers show that until August last year, over 1,000 vehicles had already been converted to using CNG.