Condor Airlines to increase flights to Tanzania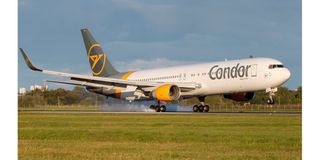 Dar es Salaam. A German airline, which currently flies twice a week between Frankfurt in Germany and Zanzibar, plans to increase the number of frequencies to three.
The move, according to Condor Airlines' head of Seat Only Sales International Markets, Mr Carsten Sasse said the move, necessitated by a rise in demand for its services, will become effective in November, this year.
"We have seen the potential for growth in the Zanzibar market and Tanzania in general…," he said.
Currently, the airline lands at Zanzibar's Abeid Amani Karume International Airport – using its 310-seater Airbus A330NEO - but Mr Sasse was of the view that should then market sentiments be more encouraging, they will not hesitate to seek new routes in Tanzania.
The landing in Zanzibar, he said, was informed by the type of passengers they carry, who are mostly tourists, Ms Sasse said during a breakfast meeting with travel agents on Tuesday, noting however that they have entered into a deal with Tanzania's Precision Air which will ferry their passengers from Dar es Salaam to the Isles.
"Under this agreement, Precision Air will take our passengers from Dar es Salaam to Zanzibar so that they can board the plane to Germany," he said.
According to a representative of Condor Airline in Tanzania who doubles as its country sales manager, Mr Paul Mzengela, the availability of direct flights between Germany and Zanzibar means that passengers will no longer be required to travel to Nairobi in Kenya, Addis Ababa in Ethiopia or Doha in Qatar to connect to Germany.

"For us, it is an opportunity because it reduces the cost of connecting flights for customers. It also stimulates the economy because it will help to increase the number of tourists from Germany and thus create jobs for our people," he said.

Speaking at the event, the Deputy Ambassador for Germany in Tanzania, Dr Kathrin Steinbrenner said tourists come and leave but businesspeople come and investments.

"That is why we are convincing the German airline managers to start flying to Dar es Salaam as well," said noting that Dar es Salaam is Tanzania's commercial capital hence the need to directly connect it to Germany.