CRDB to pay record Sh117.5 billion in total dividend to its shareholders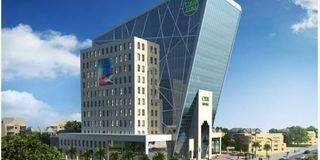 Summary
The growth in net profit and dividends have been fueled by an increase in net interest income, which grew by 15.5 percent year-on-year to Sh745.8 billion, driven by loan book growth
Arusha. Shareholders of CRDB Bank Plc will get a total of Sh117.5 billion in dividends this year, thanks to the lender's improved profitability in 2022.
This represents a roughly 25 percent increase over the Sh94 billion total dividend the bank paid its shareholders last year from its 2021 net profit.
The bank's shareholders will receive a dividend per share of Sh45 this year, up from last year's Sh36.
"The rise in our profitability and hence our dividend is testament to the success of our five-year medium strategy that ran from 2018 to 2022," CRDB Bank board chairman Ally Laay told shareholders here at the weekend.
At group level, CRDB Bank's net profit rose by 31 percent last year to reach Sh351.4 billion, compared to Sh268.2 recorded in 2021.
He said CRDB Bank's Burundi subsidiary exhibited a splendid performance last year when its net profit rose by about 80 percent to reach Sh23 billion from Sh12.8 billion in 2021.
"This means that the Burundi subsidiary alone contributed 7.0 percent to the Group's profit," he said, detailing a number of initiatives that the board and the management will undertake to grow the profits further in that country.
Recently, CRDB Bank was granted a licence by the central bank of the Democratic Republic of the Congo, officially known as Banque Central du Congo (BCC), to commence its operations there.
Similarly, CRDB Bank Group has also introduced an insurance subsidiary, CRDB Insurance Company (CIC), as well as its own foundation this year.
Speaking on the Bank's performance, the Group CEO and Managing Director, Abdulmajid Nsekela, said in the financial year 2022, the efforts to strengthen income continued to yield positive results, with a growth of 28 percent in operating income to Sh497.7 billion.
The growth was fuelled by an increase in net interest income, which grew by 15.5 percent year-on-year to Sh745.8 billion, driven by loan book growth. The Group closed the year with an NPL ratio of 2.8 percent, thus meeting the regulatory requirement of less than 5 percent.
The Bank also recorded strong balance sheet growth, with a year-on-year expansion of 32.0 percent from Sh8.8 trillion in 2021 to Sh11.6 trillion. The growth was contributed by a 26.4 percent increase in customer deposits, reaching Sh8.2 trillion from Sh6.5 trillion reported in 2021.
"Our efforts to enhance the efficiency of our operations continue to bear results with significant improvements in our cost of business as reflected in the cost-to-income ratio, which has improved significantly from 66.7 percent in 2018 to 49.4 percent in 2022," he said.
Mr Nsekela also noted that improved operational capabilities and enhanced service delivery have enabled the Group to scale up its services and deploy innovative solutions that continue to transform the market.
"Today, more than 95 percent of the transactions in our Bank are done digitally through SimBanking, internet banking, and more than 28,000 CRDB Wakala," he added.