First Tanzanian gets certificate of origin to trade on AfCFTA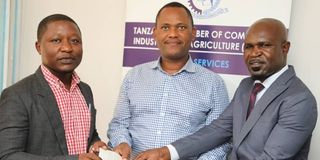 Summary
Presenting the certificate yesterday, the acting vice president of the Tanzania Chamber of Commerce, Industries, and Agriculture (TCCIA), Mr Vicent Minja said the certificate will allow the businessman to get a reduction in customs duty from 35 percent to 12 percent
Dar es Salaam. The first Tanzanian received a certificate of origin yesterday to trade in the African Continental Free Trade Area (AfCFTA).
Presenting the certificate yesterday, the acting vice president of the Tanzania Chamber of Commerce, Industries, and Agriculture (TCCIA), Mr Vicent Minja said the certificate will allow the businessman to get a reduction in customs duty from 35 percent to 12 percent.
"We have been educating traders about the benefits of exporting goods using certificates of origin under the African Continental Free Trade Area agreement, and today we handed over the certificate of origin to the first trader," said Mr Minja.
Mr Minja urged more businessmen to take advantage of the opportunities available in the free market by accessing certificates of origin.
For his part, the acting director general of the Tanzania Business Development Authority (Tantrade), Mr Fortunatus Mhambe, revealed that many traders have been ignoring certificates of origin in their business activities without realising that they would facilitate their activities by helping them access more markets.
"Africa has been struggling to overcome many economic challenges, but now there is this great opportunity that we must embrace to move forward," said Mr Mhambe.
He urged local business owners to take advantage of the AfCTA's potential, pointing out that the continent's free market offers a significant opportunity because it lowers trade barriers.
Shabani Hamis, the trader who received the certificate, thanked the TCCIA for the certificate of origin because it will help increase sales, especially in Algeria, where he sells coffee.
"I want to thank TCCIA for giving us this chance to expand the business and attract more clients. I believe that until next year we will be able to export up to 1,000 tonnes of coffee abroad," said Mr Hamis.
Mr Hamis said he sent nine containers of coffee (Green Robusta), which is about 172.8 tonnes to Algeria, and the containers left the country on April 29, 2023.
"We have other crops like cashews, for which we are looking to use this opportunity to secure new markets," he said.