French firm eyes oil, gas as it opens Dar chapter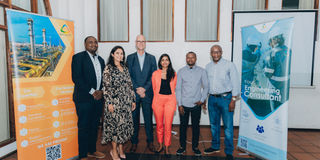 Dar es Salaam.  A  French engineering firm has set foot in Tanzania as it seeks to play a role in supporting the country's growth aspirations while expanding its services to new markets in the world.
Ekium, which markets itself on its website as a company that specialises in engineering and automation, inaugurated its new chapter in Tanzania recently in its pursuit of a role in the development of Tanzania's oil and gas ambition.
A subsidiary of France's Group SNEF which specialises in electrical installation and the entire management of finishing turnkey projects and operations, Ekium Tanzania Ltd said in a statement at the weekend that with a long history of experience, it will pioneer renewable energy solutions to complex oil and gas projects.
Tanzanian experts, the company said, will lead the way.
It said it was committed to bringing innovative industrial systems, state-of-the-art building services and an experienced team of engineers who will tackle challenges and seize opportunities that allow the organisation to contribute positively to the growth of the country.
"Ekium and Group SNEF are committed to fostering partnerships with local communities, institutions and businesses to ensure that our presence here brings prosperity to all," said a director for Ekium Tanzania, Mr Dominique Bechard.
He said the company was fully aware of the fact that engineering consultancy entails blueprints and calculations but also the relationships it builds, the knowledge it shares and the impact it creates.
Ekium has been supporting various industries across the globe for over 30 years.