Government pledges to address bee product trading obstacles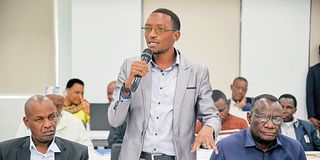 What you need to know:
The Beekeeping Value Chain Support project organised a public-private forum with beekeeping value chain stakeholders to discuss how to reform the value chain and improve bee product export
Dodoma.  The government has promised to address challenges facing the beekeeping value chain in an attempt to open up the potential of the business.
This was said by Mr Filipo Mwampamba, officer of beekeeping policy and legislation at the Ministry of Natural Resources and Tourism.
"The government has acknowledged these challenges and has begun addressing them in collaboration with stakeholders, including ongoing improvements to bee product fee regulations to address the identified challenges," he said during a two-day meeting of industry stakeholders yesterday.
The Beekeeping Value Chain Support (BEVAC) project hosted a public-private dialogue with stakeholders from the beekeeping value chain, such as business support organisations (BSOs) and various government agencies, to deliberate how to reform the value chain and improve the export process of bee products.  The event aimed at presenting the issues and policy recommendations from two published papers on the identification of the root causes of selected priority issues and developing policy recommendations. The dialogue allowed both the private sector and government agencies to discuss the possible implementation of policy solutions to address trade obstacles in the sector and agree on the action plan.
The beekeeping sector provides employment to about two million people and contributes about $12.9 million in exports.
The two-day event supports the progress of the sector through the provided inputs to help beekeeping value chain actors move forward in addressing key barriers to trade.