Hotels urged to seek quality certifications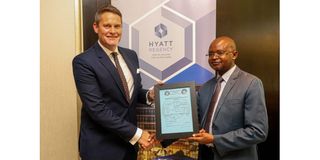 Summary
This was stated by TBS director of quality management, Mr Lazaro Msasalaga, during a ceremony to provide the Hyatt Regency Dar es Salaam with an International Safe Food Service certificate
Dar es Salaam. The Tanzania Bureau of Standards (TBS) yesterday advised hotel owners in the country to ensure that they are recognised for providing excellent customer service to attract more tourists to the country and boost the economy.
This was stated by TBS director of quality management, Mr Lazaro Msasalaga, during a ceremony to provide the Hyatt Regency Dar es Salaam with an International Safe Food Service certificate.
Mr Msasalaga said that the presence of many hotels with quality certifications is important in expanding the tax base.
"This hotel is the first in the country to be certified in that category. Having more certified hotels would be, for sure, a good way to attract travellers from foreign countries," he noted.
"This will also help our economy by increasing tourism and generating more tax revenue. The certification should be a catalyst for other hotel owners to ensure that their services are recognised," he said.
Mr Msasalaga says a hotel must apply to TBS if it wants to get certification for its food services. TBS would then send its officials to conduct inspections, and if the hotel is found to comply with the health requirements and regulations, it is issued with the certificate.
Hyatt Regency is a 180-room, five-star hotel located at the waterfront. The facility was originally built by the Tanzanian government in 1965 and was known as The Kilimanjaro Hotel.