How 13 banks in Tanzania made profits in first quarter of 2023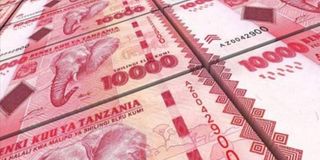 Summary
The combined net profit of 13 first-tier- lenders which account for over 90 percent of the industry's profitability-rose by 20 percent during the first quarter of 2023 compared to the corresponding period in 2022
Dar es Salaam. The first quarter of 2023 was good for banks and other financial institutions in Tanzania, thanks to the rise of digital financial services, favourable legislature and brighter economic prospects.
An analysis of 13 first-tier banks by The Citizen shows that they did generally well across such performance parameters as profit levels, customer deposits, loans, asset value and non-performing loans (NPLs), among others.
Lenders that featured in the review are CRDB Bank Plc, NMB Bank Plc, Standard Chartered Bank, Exim Bank, Stanbic Bank, Diamond Trust Bank (DTB) and Absa Bank Tanzania. Others are KCB Bank Tanzania, Tanzania Commercial Bank (TCB), People's Bank of Zanzibar (PBZ), Citibank, NBC Bank and Azania Bank.
In terms of profitability, the combined net profit of the 13 lenders – which account for over 90 percent of the industry's profitability – rose by 20 percent during the first quarter of 2023 compared to the corresponding period in 2022.
The banks registered Sh334.56 billion in net profits from January to March this year compared to Sh278.29 billion recorded in the first three months of 2022.
The success of the banking industry also came on the back of rising confidence among customers, improved access to banking services and an overall positive economic outlook that has resulted in an increase in demand for banking services.
During the first three months of 2023, an eye-popping Sh27.54 trillion was deposited by customers in the 13 banks, which is Sh944 billion more than the Sh26.5 trillion that was deposited during the first quarter of 2022.
Nearly Sh25 trillion in loans was issued in this year's first quarter, being six percent more than the total sum issued in last year's corresponding period.
Although a few lenders struggled with NPLs, the overall situation was better than in the first quarter of 2022.
Only two first-tier lenders have double-digit NPL levels of 14.58 percent each and the rest are in single digits.
In fact, five are in levels that even surpass the regulatory recommended rate of five percent. They are KCB Bank (2 percent, CRDB (2.9 percent), NMB (3 percent), Standard (2.2 percent), NBC (3.8 percent) and Stanbic (4.9 percent).
Bankers who spoke to The Citizen said the outcomes were an indication that the economy was doing well and that the government, through the Bank of Tanzania (BoT), was improving the business environment, which has seen lenders increasingly gaining the trust of their customers as they also expand their investments in digital systems to reach the unbanked segment of the population.
"NBC Bank has continued its growth trajectory with another strong performance in the first quarter of 2023. The performance parameters broadly reflect increasing profitability and a performing loan book….We recognize the trust of our customers and the general public in the NBC Brand," said NBC Bank managing director Theobald Sabi.
During the period, the bank recorded a 22 percent year-on-year growth in revenue to Sh73.1 billion from Sh59.6 billion, with profit before tax increasing by 49 percent year on year to Sh27.2 billion from Sh18.6 billion for the same period last year. Its customer assets grew by 31 percent growth while deposits grew by 17 percent.
The bank continues investing in digital systems and expanding its customer network to support growth ambitions and reach the unbanked.
And, according to the NMB Bank Plc chief executive Ruth Zaipuna, the results for the first quarter of 2023 have set a strong and optimistic tone for the year.
"The results demonstrate that we have a solid foundation for sustained growth, given the existing enabling environment created by the government's ongoing strong efforts to enhance business and investment climate," she said yesterday.
The bank, she said, continues to become more efficient and innovative, whilst optimally investing in technology to strengthen our capabilities for the future.
Going forward, Ms Zaipuna added, NMB Bank plans to build on the current momentum through disciplined execution of its strategy, with a clear path towards delivering on its strategic priorities.
CRDB Bank Group chief executive Abdulmajid Nsekela attributed his bank's bottom line growth to its sustained efforts to expand its services to the existing client base and the investments in its distribution channels.
The bank's focus for this year, he said, was expand its product and service offerings to meet the evolving needs of our customers.
"This includes supporting small and medium-sized enterprises (SMEs), as well as special groups such as women and youth. We believe that by providing tailored solutions to these groups, we can help them grow and thrive, which in turn supports the overall economy. This is what is driving our success," Mr Nsekela said yesterday.
The bank, he added, was also investing in innovation and automation to improve our processes and increase cost efficiency.
"This includes the use of digital tools and platforms to streamline our operations, as well as leveraging data and analytics to better understand our customers and their needs…. Of course, there are many other factors that have contributed to our success, and we are proud of the hard work and dedication of our team in achieving these results. We look forward to continuing to build on this momentum in the coming quarters," he said.
KCB Bank Tanzania managing director Cosmas Kimario said with the current growth rate of the banking industry it was significant to recognize the role of Digital financial services (DFS) in accelerating financial inclusion through digital channels, such as the internet and mobile phones, instead of traditional physical channels.
He said another factor was the growth of loan services to the private sector and the government ensuring significant improvement in interest income for the banks.
"We have seen a significant rise in credits by banks to the private sector, and the government which borrows to fund different development projects across the country," Mr Kimario said.
The impressive loan books coupled with supportive monetary and fiscal policies by the government had pushed for more profitability levels for banks.
TCB chief executive Sabasaba Moshingi cited the impressive numbers continue to lie with the growth in both interest income, non-funded income as well as recovery from non-performing assets.
"The outlook for the year is bright and we are looking forward to posting improved financial performance," Mr Moshingi said of the State-owned institution.