How new crop insurance will change farmers' fortunes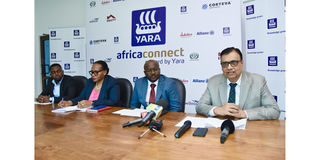 Summary
Fertiliser manufacturer Yara Tanzania, Jubilee Insurance and Equity Bank Tanzania have partnered to offer crop insurance coverage and help farmers to mitigate the impact of climate change
Dar es Salaam. Three companies have entered into partnership through which they will provide crop insurance.
This comes at a time when Tanzania Insurance Regulatory Authority (Tira) data shows that drought-related economic losses currently stand at $140 million (about Sh320 billion) annually.
Fertiliser manufacturer Yara Tanzania, Jubilee Insurance and Equity Bank Tanzania have partnered to offer crop insurance coverage and help farmers to mitigate the impact of climate change.
The new initiative is a shot in the arm for agriculture, which is currently virtually uninsured in Tanzania.
Tira's market performance report indicates that agricultural insurance sales were Sh1.3 billion in 2021, equivalent to just 0.17 percent of all general insurance sales.
Addressing the media in Dar es Salaam yesterday, Yara Tanzania managing director Winstone Odhiambo said the new initiative would play a key role in making farming in Tanzania more stable and profitable.
"Offering crop insurance in the country is a huge milestone for us as we seek to empower hard-working farmers and secure livelihoods and food security," he said.
He added that farmers would now be able to access insurance coverage through the AfricaConnect digital platform, which is a one-stop solution offering access to funding, high quality fertiliser, extension services and a readily available market for their produce.
Mr Odhiambo said the platform, which was launched in 2022 to cater for rice growers and has since enrolled about 83,000 farmers, would now incorporate more crops, making them qualify for insurance coverage.
"We are happy to announce today that in addition to rice growers, Africaconnect will in 2023 also enlist maize, coffee, potato and sunflower growers. We urge all eligible farmers to enrol and benefit from the wide variety of services on offer."
Jubilee Insurance is the latest partner to join the initiative that provides tailor-made solutions aimed at increasing farmers' productivity. Other Africaconnect partners are Equity Bank, Corteva Agriscience, Agriculture Seed Agency (ASA) and Murzah Wilmar Rice Millers Limited.
Jubilee Allianz General Insurance Company chief executive and director Dipankar Acharya said the firm was pleased to help shield farmers from losses occasioned by natural calamities by offering them crop insurance and better management of the risk exposures they were facing.
"We anticipate that farmers will now go about their activities with greater confidence as a result of this," he said.
Equity Bank Tanzania managing director Isabela Maganga said since the launch of the digital platform in 2022, the bank has been issuing loans for farming inputs on a collateral-free basis.
The lender issued Sh14 billion in loans to about 4,600 farmers through Africaconnect in Kilimanjaro, Tanga, Morogoro, Arusha, Manyara and Iringa regions in 2022.
"We look forward to serving more farmers this year as Yara extends the service to cover more crops," Ms Maganga said.
Agriculture comprises about 30 percent of Equity Bank Tanzania's loan portfolio.
Yara digital solutions manager for Tanzania and Rwanda Deodath Mtei said the company believed that connecting farmers with key stakeholders would boost returns and productivity.
"Farmers linked with AfricaConnect farmers enjoy value that is only available through the platform. This includes expert knowledge, inputs and markets," he said.
The platform will target over 300,000 farmers in 2023 with its unique partnership that provides a one-stop solution to farmers' critical needs.