Making ends meet through vegetable and poultry farming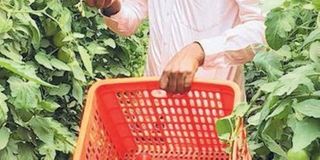 Summary
Unemployment among the youth remains a hurdle even as Tanzania's economy is ranked among the fastest growing in Africa - having averaged seven percent annual growth for over a decade. 
Dar es Salaam. Unemployment among the youth remains a hurdle even as Tanzania's economy is ranked among the fastest growing in Africa - having averaged seven percent annual growth for over a decade. 
According to the National Bureau of Statistics (NBS), Tanzania's unemployment rate was estimated at 9.6 percent in 2019 after slowing from 10.1 percent in 2015. 
Statistics show that some 800,000 youth enter the jobs market annually, with only about 40,000 formal job slots available. 
Various strategies have been drawn up in a bid to find solutions to the problem of lack of jobs, whereby the ruling political party CCM pledged to create at least eight million jobs in the next five years. 
In any case, there are innovative youth who engage in various income generating programmes. 
Bwisungo Chakutema, 34, is one of those who ventured into vegetable farming and poultry keeping in Shinyanga Region since 2017 - for which he employs five young people. 
Speaking to The Citizen recently, Chakutema - a graduate in Community Economic Development - says he at first wanted to undertake farming temporarily, but having realised its potential, he has decided that it is his life-long career. 
"I started engaging in poultry keeping and farming from a young age. Even after completing my studies, this has remained my way of earning a living," he says. 
Chakutema, who has over 600 chicken layers, says he makes money by selling eggs daily, while also selling vegetables like tomatoes. 
Apart from just practising farming, he has been attending various training and agricultural meetings to gain more knowledge. In such manner he has managed to introduce his own institution which he uses to share knowledge and experience with fellow farmers. 
"Since I started this business I have managed to sustain my life and family and I have decided to start offering training to my fellow farmers on good farming practices," he says. 
He says he has named his organisation 'Mkulima Makini' (Swahili for Keen Farmer) - and has reached many farmers by sharing his experience and expanding his market network. 
"Through this, many farmers have changed their mindset regarding farming. Many are now transforming from subsistence to commercial farming. I also use this institution to introduce agricultural technologies and marketing. 
"We also share climatic condition information, soil composition and also engage other stakeholders to share knowledge," he says. 
He says his institution focuses on youth and women, who form the majority of people who engage in poultry keeping and agricultural practices. 
"Through field visits, we meet with women and youth groups and training them on good ways of farming, marketing and development in science and technology. 
"We're also striving to change youth mindsets, as most believe that agriculture doesn't pay - so, we show them otherwise," he says. 
Apart from these successes, Chakutema faces a number of challenges in his undertakings, including lack of market and farming inputs. 
"When customers cannot afford to pay for our products, we suffer. There are those who used to take goods in loans. At the same time, poultry feed is very expensive. Farming inputs like fertiliser and pesticides are also expensive, hence, it not easy," he says. 
"These challenges are the very reasons I started this institution. Creating a marketing network helps us in our activities. Invited experts show us the way and help us to expand the network even more," he explains. 
In 2019, Chakutema was among the youth who were awarded for undertaking self-employment in agriculture by the Netherlands embassy in Tanzania. 
"It was a unique opportunity to be recognized by the embassy. I was so encouraged to know that my efforts were not in vain," he says wearing a broad smile. 
He says that his future expectations are to become a big farmer who will employ more youth and create marketing opportunities for other farmers and poultry keepers. 
"I want to expand my business to the international level by exporting agricultural products from my own farms. I urge my fellow youth to engage in agriculture as it does indeed pay. What is needed is commitment and perseverance," Chakutema says.