NMB earmarks Sh1 billion for scholarships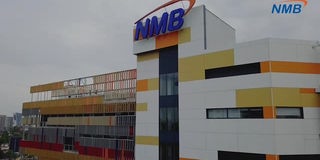 What you need to know:
The plan, code-named "NMB Nuru Yangu Scholarship and Mentorship Programme," aims to make it easier for talented but impoverished students to enrol in higher school.
Dar es Salaam. The NMB Bank Foundation said at the weekend that it was budgeting Sh1 billion in support of 130 students under its scholarship and mentorship programme during the 2023/24 academic year.
Launched last year, the initiative, which has been codenamed 'NMB Nuru Yangu Scholarship and Mentorship Programme', seeks to facilitate bright and underprivileged students access to higher education.
Speaking during the opening of the second phase of the programmeme's application window in Dar es Salaam at the weekend, the NMB Foundation Board Chairperson, who also doubles as the NMB Bank's Chief Executive Officer, Ms Ruth Zaipuna, said through the scholarship programmeme, the bank last year managed to receive 65 successful candidates and that this year, it will bring on board 65 
"All needy students who meet the programme's criteria should apply, as our selection process is very transparent," Zaipuna said.
Earlier, NMB Foundation General Manager Nelson Karumuna said the second phase of the NMB Nuru Yangu Scholarship and Mentorship Programme targets students with interests in accounting and statistics, economics, engineering, information and communication technology (ICT), oil and gas, and medical studies.
"As a foundation, we will foot all the associated costs for the successful candidates to be in class, including tuition fees, scholastic materials, transport, health insurance, and a laptop computer. We will also secure practical training and mentorship opportunities for the successful candidates to enable them to realise their full potential," Mr Karumuna said.
He noted that the 65 students that were successful during the first phase of the programme last year are already perusing their higher education at various universities, including the University of Dar es Salaam (UDSM), Sokoine University of Agriculture (SUA), Ardhi University, the University of Dodoma (UDOM), and Mzumbe University, among others.
The application window is set to close on October 8, 2023.