NMB named best bank in Tanzania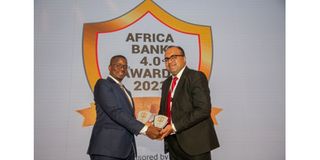 Summary
The lender landed the honour during the 10th Africa Bank 4.0 Summit held in Nairobi, where NMB Bank chief executive Ruth Zaipuna was also named the Best CEO in Tanzania for the second year in a row
Dar es Salaam. NMB Bank Plc has bagged the Best Bank in Tanzania 2023 Award, thanks to its strong financial performance momentum and its innovative digital solutions.
The bank was named as such during the 10th Africa Bank 4.0 Summit held in Nairobi, Kenya at the weekend.
NMB Bank said in a statement yesterday that during the awards, the bank's Chief Executive Officer Ruth Zaipuna also scooped the Best CEO in Tanzania Award 2023 for the second year in a row.
The Africa Bank 4.0 Awards recognise the efforts and innovation of the region's key players in the banking, financial services and insurance sectors.
NMB said in a statement in Dar es Salaam yesterday that its Chief Human Resources Officer Emmanuel Akonaay received the awards on behalf of the lender.
He is quoted as having told the gathering that the awards were testament to the bank's efforts to coming up with innovative products that meet the changing needs and aspirations of customers.
Last year, NMB Bank's net profit rose by 47 percent to Sh429 billion from Sh290 billion in 2021.
Its assets rose to over Sh10 trillion from Sh5.5 trillion four years ago with customers' deposits expanded to Sh7.5 trillion from Sh4.2 trillion in three years.
In her remarks, Ms Zaipuna said she was humbled that her achievement and contribution as a leader have been recognized.
"I am humbled to be leading an organisation with a growing reputation that is continuously positioning itself to have a global mark of excellence."
"I thank all the stakeholders for their unwavering support that has enabled the bank to continue serving communities," she added.