NMB takes the spotlight as DSE turnover hits Sh10 billion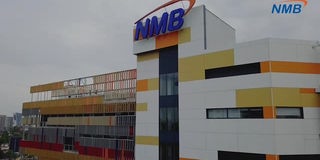 What you need to know:
Turnover increased by roughly tenfold from Sh1 billion the previous week to Sh10.1 billion last week
Dar es Salaam. Turnover at the Dar es Salaam Stock Exchange (DSE) was significantly higher last week, propelled largely by block transactions at the NMB Bank Plc counter.
The amount of turnover increased by almost ten times, from Sh1 billion the week before to Sh10.1 billion the following week, with the lender being responsible for 70 percent of the turnover.
The rise in turnover went in tandem with an improvement in the volume of traded shares, which jumped to 8.19 million, a 5.35-fold increase from the preceding week, according to an analysis by Vertex International Securities Ltd.
However, the market capitalisation was down by 0.55 percent while the domestic market capitalisation declined by 0.39 percent due to slight process declines on the CRDB Bank and TCCL counters.
The capital market capitalisation closed last week at Sh14.8 trillion from Sh14.9 trillion the previous week, while the domestic market capitalisation declined to Sh11.25 trillion from Sh11.29 trillion. The share price for CRDB and TCCL lost by 3.26 percent and 4.65 percent, respectively, compared to the previous week.
The bond market saw 59 deals happening with a total turnover of Sh72.96 billion, a decrease of about Sh5 billion from the previous week's Sh78.68 billion.
"A 25-year Bond 643 was the most frequently traded, indicating an affinity for long-term investment options. 2 deals for corporate bonds worth 0.0087 billion shillings for NMB and NBC went through at an average price of 86.8 percent and 90 percent, respectively," Vertex analysis indicated.