Prime
NSSF reports doubling of investment portfolio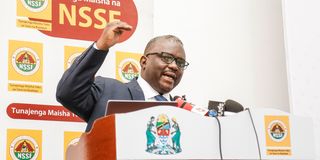 What you need to know:
NSSF attributes the rise to economic growth, members' contributions and return on investments.
Dar es Salaam. The National Social Security Fund (NSSF) said yesterday its investment portfolio increased by 111 percent from Sh3.39 trillion on March 1, 2021 to Sh7.15 trillion by June 30, 2023.
NSSF attributed the increase to economic growth, members' contributions and return on investment.
The value of the fund's assets grew by 55 percent to Sh7.15 trillion by June 30, 2023 from Sh4.6 trillion on June 30, 2021.
NSSF director general Masha Mshomba said this in Dar es Salaam when briefing editors on fund's performance, including successes recorded from March 2021 to June 2023.
Mr Mshomba noted that despite various challenges, the value of the fund's investments has grown significantly.
NSSF is currently implementing five major projects, namely the Dungu, Toangoma and Mtoni Kijichi housing schemes; the Mzizima Towers commercial and residential project and a five-star tourist hotel in Mwanza.
"Various challenges, including tender and contractual shortcomings, caused these projects to stall in 2016. These projects have passed through various stages, including a review conducted by the Public Procurement Regulatory Authority (PPRA), which was completed at the end of 2020."
Mr Mshomba noted that NSSF has addressed existing challenges and implementation of all projects is in progress and is expected to be completed between June and September 2024.
He added that the stalled mega real estate project, the Dege-Eco Village, has been sold to an investor and further details will be announced in October. However, the value is estimated at around $220 million.
The Dege Eco Village project has an area of 302 acres in Kigamboni, Dar es Salaam, where there are 3,750 houses in various stages of construction. The project was valued at over Sh1 trillion when it stalled in 2017.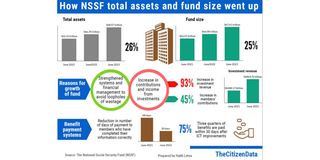 Mr Mshomba noted that other projects were doing well, including the Kigamboni Bridge, where so far Sh83 billion has been collected as toll charges since the crossing was commissioned in 2016.
As for the Mkulanzi sugar factory project in Mbigiri, Kilosa District, the NSSF chief said they expect it to be completed and commence production at the end of October 2023.
Until June 30, 2023, project implementation for sugarcane fields reached 86 percent, with the factory reaching 93 percent.
Mr Mshomba said the fund has 874,082 members; monthly contributions average Sh97.67 billion; investment income per month was Sh37.35 billion and bonus payments per month were Sh50.58 billion.
He noted that the average investment income per month in the financial year ended June 30, 2023 was Sh72.06 billion, which is an increase of 92 percent compared to Sh37.35 billion collected in March 2021.
The real income (real rate of return on investment) of the fund has increased from an average of 3.31 percent in March 2021 up to 5.32 percent per period, which ended on June 30, 2023.
Explaining the fund's performance for the period that began March 1, 2023, to June 30, 2023, Mr Mshomba said between the same period the fund registered a total of 547,882 members and the number of contributing members increased by 36 percent from 874,082 on March 1, 2021, until 1,189,222 members on June 30, 2023.
In the financial year ending June 30, 2023, members' monthly contributions increased from Sh97.67 billion on March 1, 2021 to Sh143.05 billion during the financial year that ended on June 30, 2023.
This rise was attributed to an increase in the number of employers who submit contributions on time and a conducive business environment for the private sector.