Puma Energy shareholders receive Sh12.2 billion dividends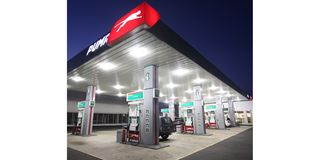 What you need to know:
The dividends comprise half of the total net profit of Sh24.4 billion for the year ending December 2022 and were approved at the company's annual general meeting on May 10, 2023
Dar es Salaam. Puma Energy shareholders yesterday got a total of Sh12.2 billion in dividends as the company bounced back from the Covid-19 pandemic to register a 117 percent rise in net profit in 2022.
The dividends, which comprise half of the total net profit of Sh24.4 billion for the year ending December 2022, were approved during the company's annual general meeting that was held on May 10, 2023.
The Sh24.4 billion in net profit was 117 percent more than what the company registered during the year ending December, 2021.
The Tanzanian government and Puma Investments Limited jointly own Puma Energy, each holding a 50 percent interest.
At a ceremony yesterday, the general manager, Ms Fatma Abdallah, and the chairman of the company's board, Dr Selemani Majige, presented a Sh6.1 billion dummy cheque to the Treasury Registrar, Mr Nehemia Mchechu who represented the government.
According to Ms Abdallah, in compliance with the firm's dividend policy, 30 percent of the net profit – which translates into Sh7.3 billion - will be allocated to re-investments while the remaining 20 percent, equivalent to Sh4.88 billion of the net profit will remain as retained earnings of the company.
In his remarks, Mr Mchechu, said the government was happy with the performance of Puma Energy Tanzania and advised the company to continue with its dedication to innovation and creative service offerings.
He urged the company to expand its presence beyond Dar es Salaam and look at other cities and towns that were developing rapidly.
He commended the company for investing in cleaner energy alternatives like introducing future-oriented fuels such as LPG, Solar and CNG.
The head of Africa at Puma Energy, Fadi Mitri, said the partnership between Puma Energy and the government of Tanzania was key in supporting economic growth while sharing the benefits with other members of the community.
"The improved performance of the company also allows Puma Energy Tanzania to continue to investing in Tanzania to ensure reliable access to energy, while also supporting the community," he said.
And according to Ms Abdallah, the reported growth was due to the collective effort and agility of the members of staff, particularly in the face of the challenges posed by the Covid-19 pandemic.
She said the company was collaborating with the government to tackle various business challenges, including the global United States Dollar deficit.