SBAN launches programme to boost startups growth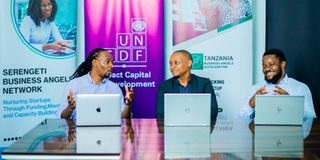 Dar es Salaam. Serengeti Business Angels Network (SBAN) has today launched a training programme for startups aimed at developing their business and how they can access funds for capital.
SBAN, together with Ennovate Ventures, a tech venture building firm that supports emerging tech companies, and the United Nations Capital Development Fund (UNCDF) Tanzania, will train 50 tech startup in to become angel investors (invests money and expertise in startups).
Participants of the programme doubled dubbed "Tanzania Business Angel Investors Accelerator (TAA)" will receive mentorship from experienced angel investors from Tanzania and across Africa and gain opportunities for networking with other entrepreneurs and investors.
"Tanzania has a vibrant startup ecosystem, but access to capital remains a major challenge," said Rodrique Msechu, co-founder and network manager of SBAN.
"The TAA Programme will help to address this gap by training and supporting new angel investors. We are confident that the programme will play a vital role in boosting the growth of Tanzania's startup ecosystem," he adds.
Msechu said the progeramme will involve identifying and evaluating investment opportunities, due diligence and deal structuring, mentoring and supporting startups, risk management and exit strategies and hands-on support in closing their first angel investment deal.
"This program is a critical step in building a strong and supportive angel investor community in Tanzania. We are confident that the program will help to unlock the potential of Tanzania's startup ecosystem" said Francis Omorojie, CEO of Ennovate Ventures adding that they are excited to partner with SBAN and UNCDF Tanzania.
Innovations Analyst at UNCDF, Edgar Masatu, said in response to a growing interest in angel investment in Tanzania, the establishment of a national resource center is essential to empower local angel investors and foster digital economy growth.
The project's broader objective is to create a connected community of angel investors in Tanzania, providing mentorship, knowledge, and capital to early-stage startups, particularly in fintech, to stimulate entrepreneurship, job creation, and innovative solutions for underserved populations in the Tanzanian startup ecosystem."
Funding Partner-Programme Manager, European Union Delegation in Tanzania, Jose-Luis Gonzalez, noted that "Our ultimate objective is to generate employment opportunities and access to finance prospects for women and youth through digital solutions."
The program is part of SBAN's large r initiative to groom 1,000 active angel investors in Tanzania and the diaspora by 2026, to unlock local capital to scale Tanzanian startups.