TCRA to block 2 million unverified Sim cards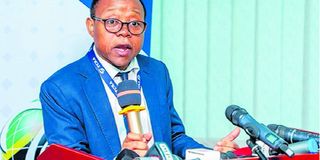 What you need to know:
Verification was designed to protect innocent consumers against online crimes such as fraudulent activities and theft
Dar es Salaam. Tanzania Communications Regulatory Authority (TCRA) on Tuesday, January 3, said there are over two million unverified Subscriber Identification Modules (Sim cards) which could be misused for criminal offences.
The regulator, in collaboration with mobile network operators, are verifying Simcard registration, by ensuring the subscribers' fingerprints match those in the National Identification Authority (NIDA) database.
Reporting on the verification, TCRA manager for telecom and internet management, Sadath Kalolo said 60,076,000 active Sim cards have been verified, with only 2,061,000 or 4.3 percent remaining.
TCRA has reiterated the call on non-compliant subscribers to verify their Sim card registration by end of January this year. Unverified Sim cards will be blocked after January 31, 2023, it said.
TCRA director general, Jabiri Bakari, announced the verification early last month, explaining that it was designed to protect innocent consumers against online crimes such as fraudulent activities and theft.
"Verification would succeed if all subscribers voluntarily and fully complied", he added, emphasising that verification would make mobile communications safer for all.
Penalties for unregistered Sim cards are stated in the Electronic and Postal Communications (Sim card registration) Regulations.
Subscribers can verify the status of their Sim cards registration and be updated on those registered against their national identification numbers by dialing *106# on their mobile phones.
"Subscribers who discover any anomalies in their registration are urged to take up matters with the respective mobile service provider," Dr Bakari said.
TCRA has identified several reasons for non-compliance with Sim card registration procedures, including criminal intentions.
In early November 2022 TCRA blacklisted and deactivated 52,087 international mobile equipment identities (IMEIs), including those involved in theft and fraudulent activities through mobile phone networks. An IMEI is a unique code used to identify an individual mobile telephone in Global Systems for Mobile (GSM) communication networks.