TIRA, CRDB recognised for Trust Account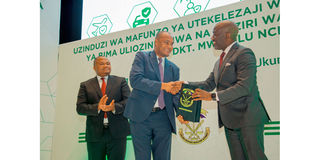 Summary
Mr Mafuru gave the plaudits during the launch of training on the implementation of the account for executive directors and chief financial officers of insurance companies in the country
Dar es Salaam. The deputy permanent secretary of the ministry of Finance and Planning, Mr Lawrence Mafuru, has lauded the Tanzania Insurance Regulatory Authority (TIRA) and CRDB Bank PLC for implementing the process of establishing the Trust Account.
Mr Mafuru gave the plaudits during the launch of training on the implementation of the account for executive directors and chief financial officers of insurance companies in the country. The launch took place at the CRDB Bank Head Office in Dar es Salaam.
He said the introduction of the Trust Account is a good step that will help strengthen the management of the insurance sector to comply with the legal and regulatory requirements set by TIRA.
"Let me congratulate CRDB Bank on being the first bank to join TIRA in introducing a Savings Trust Account. But I am impressed by the way you have seen the importance of organising this training which aims to raise awareness among insurance companies on the operation of the account," said Mr Mafuru.
Speaking at the event, the Tira commissioner, Dr Baghayo Saqware, said the origin of the Insurance Trust Account is due to the Insurance Regulation of 2009, which requires insurance companies to keep Security Deposits equal to at least 50 percent of the minimum amount of the actual capital of the respective insurance company.
"The system that is going to be used in this account, apart from improving management, is also friendly and provides more transparency to stakeholders, meaning insurance companies. "Companies will be able to get information on securities in time and make investments according to the agreement with the Authority," added Dr Saqware.
For his part, the CRDB Bank Managing Director, Mr Abdulmajid Nsekela, thanked TIRA for giving him the opportunity to participate in the introduction of the Insurance Trust Account.
Mr Nsekela lauded the decision of introducing the account and emphasised that it plays an important role in promoting more transparency and accountability in the insurance sector, and that it will also help build confidence among the stakeholders of the sector.
"Considering that these funds have also been used for corporate investment, our bank is well organised in providing advice and investment assistance through our Treasury and Capital Markets Department," said Mr Nsekela.