TTCL has failed as a telecom, says President Samia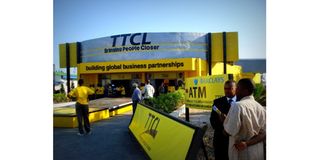 Summary
President Samia said that there is a need to review the operations of TTCL to find out  whether it can continue to offer telecom services competitively or it should focus in other areas, where they can perform effectively
Dar es Salaam. President Samia Suluhu Hassan, has on Wednesday, March 29 noted that government-owned telco TTCL has failed to meet expectations in the business, advising the company to focus on the provision of broadband service to other companies.
"Frankly speaking, TTCL has failed in the telecom business, let them focus on providing broadband, in fact, if they engage in telecom and the broadband belongs to them, there is no fairness in the competition," she said.
Speaking at State House, Dar es Salaam, where she was receiving the CAG's report, President Samia said that there is a need to review the operations of TTCL to find out whether it can continue to offer telecom services competitively or whether it should focus on other areas where they can perform effectively.
"I gave this directive last year; I do not know why it has not been implemented," she said.
In his report, Mr Kichere said that TTCL had a target to register more than 100,000 new customers in the Dar es Salaam region during the period under review, but it only managed 40,000 customers.
He said the main reason for the poor performance was a lack of liquidity, and as a result, TTCL has been left behind by other mobile phone service providers in reaching important market performance indicators.
"Some of the customer complaints were resolved after 405 days, against the target of seven days."