Y9 Microfinance marks one year with thousands of beneficiaries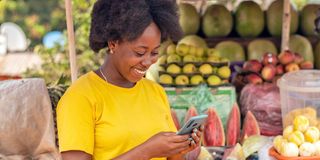 What you need to know:
The firm started its services in the country on September 9, 2022.
Dar es Salaam. The Y9 Microfinance Institution has enabled thousands of Tanzanian entrepreneurs to acquire smartphones through loaning services just a year after it established its services in the country.
The firm started its services in the country on September 9, 2022. Speaking yesterday, the Y9 sales and marketing manager, Ms Sophia Mang'enya, said the company is celebrating its first year of operations in Tanzania with several achievements to talk about.
"We have managed to set out with a mission to provide digital and financial inclusion, an ambitious goal that seems to be paying off. Before Y9 started its services in the country, a smartphone was just a pipe dream for many Tanzanians. Many can now acquire smartphones at affordable costs through our services," said Ms Mang'enya.
She said thousands of Tanzanians have been connected, including a diverse range of demographics like Bodaboda riders, mama lishe (food vendors), small shop owners, and teachers.
Y9 Microfinance is not just stopping at providing smartphone financing; it is now giving its customers access to microloans.
These range from cash loans to airtime and various other purposes, adding another layer of financial security for many Tanzanians. Mariam, a Mama Lishe in Arusha, notes how her smartphone has not only improved her business but has also enriched her life.
"Now I can take orders online, update my business on social media, and even learn new recipes," she says. For his part, Juma Idd, who is a grocery store owner, said, "Being eligible for microloans means I can better manage my inventory and cash flow, allowing me to serve my customers more efficiently.
Amina Hassan, a teacher from Dodoma, explains, "The smartphone I got through Y9 has become my mini library. I can prepare better lessons, offer my students a wide range of resources, and stay updated on educational trends."
As Y9 Microfinance Institution celebrates its first year, its impact stretches beyond merely offering financial products.
By breaking down financial barriers and making digital inclusion a reality, Y9 has not only changed individual lives but has also embarked on a journey to contribute to the country's economy.