Vicky Kamata loses court battle to administer Dr.Likwelile's Sh4 billion estate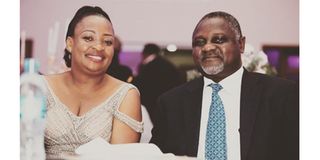 What you need to know:
The court's decision follows a tough legal battle between Dr Likwelile's children and Ms Kamata who has been seeking to be appointed administrator of the deceased's estate.
Dar es Salaam. Former Member of Parliament and musician Vicky Kamata has lost a legal battle to administer the estates of former Ministry of Finance Permanent Secretary Dr Servacius Likwelile.
Justice Augustine Rwizile of the high court in Dar es Salaam said in his judgement that Ms Kamata was not legally married to Dr Likwelile despite the two having lived together for Seven years in a relationship that the court described as only concubinary.
The court has also rejected the former MP's request to be appointed administrator to the estates of the late Dr Likwelile estimated at Sh4 billion, and instead, appointed Dr Likwelile's son, Rymond Babu Likwelile to administer the properties all in Dar es Salaam.
"I, therefore, hold that there was no marriage between the late Dr Servacius and Vicky Paschal Kamata. What they considered a legal marriage between them may be taken as sham marriage and, therefore, void ab initio (from the beginning).
"The submission that a presumption of marriage applies in the circumstances of this case, is, in my opinion, the last kicks of a dying horse," said Judge Augustine Rwizile in a judgment delivered on Friday, September 15.
The court's decision follows a tough legal battle between Dr Likwelile's children and Ms Kamata who has been seeking to be appointed administrator of the deceased's estate.
While Dr Likwelile's extended family and children accused the former MP of swiftly piercing herself into their father's life for personal gains, Ms Kamata maintained she was a legal wife of the deceased following their marriage in the Deliverance and Restoration Church in Arusha.
She argued that properties which they acquired jointly with the deceased were distributed to the beneficiaries prematurely and illegally and left her with nothing.
Ms Kamata told the court that one of Dr Likwelile's son, (Rymond), wrongly included in their father's list several estates assets that belong to her.
The properties include a house at Mbweni area in Kinondoni Municipality, a house located at Mpiji Magohe with 9.5 acres and two houses where she owns 50 percent share, a house at Sinza registered in her name.
Others, according to Ms Kamata, were a house at Kibamba registered in the name of her daughter, Gloria Likwelile and four plots at Mpiji Magohe belonging to Beda Farms Limited where she holds 50 percent share.
The court said, however, it had not been proved that the listed items by Ms Kamata do no form the estate of Dr Likwelile, thus should not be excluded from the estate of Dr Likwelile.
In his 26-page decision, Judge Rwizile said absence of evidence of divorce between Mary Ibrahim (Dr Likwelile's legal wife who died in 2020) and the former PS, means the latter did not have the capacity to marry.
"In my view, there was no evidence that the caveator (Ms Kamata) was married to another man when she contracted a marriage with the deceased. But there is no evidence as well that when the caveator and the deceased got married in 2016, Mary's marriage with the deceased had been terminated by either divorce or death," said the judge.
The court has also appointed Rymond Likwelile administrator of the estate of his father, saying Ms Kamata's interest in the estate 'is too remote.'
"The petitioner (Raymond) is the blood son of the deceased. He cannot be compared to the caveator who lived with the deceased in concubinage and is not even an heir," he said.