Coalition of the willing emerges again in EAC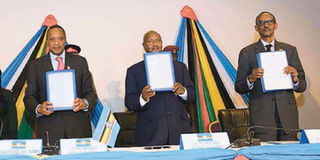 Summary
Defence ministers and top security officials from Kenya, Uganda and Rwanda have met in Kigali where they signed  an agreement to jointly fight transnational crime

Dar es Salaam. The so-called "Coalition of the Willing" comprising Kenya, Uganda and Rwanda is back, emerging this time around with a defence and security pact.
The coalition caused much hullabaloo last year when it was accused of sidelining the two other East African Community member states namely Tanzania and Burundi, but things later seemed to have been sorted out during last November's EAC Summit in Kampala when the five heads of state reaffirmed their commitment to work together.
The three countries on January 1, this year, started issuing a single tourist visa whereby Kenya would take 40 per cent of revenues, with Uganda and Rwanda splitting the rest between them.
Under the arrangement, tourists wishing to visit Kenya, for example, will be required to pay $100 (Sh160,000) for a 90-day visa that will also enable them to tour Rwanda and Uganda.
The scheme is aimed at making the three countries a single tourist destination.
On January 1, Kenya, Uganda and Rwanda also began using their respective national identity cards as official travel documents that would enable their citizens to travel among the three countries.
Travellers just have to present their identity cards to immigration officers at border posts to verify their validity before being issued with a stamped coupon to cross the border.
Last week, defence ministers and top security officials from Kenya, Uganda and Rwanda met in Kigali where they signed an agreement to jointly fight transnational crime, especially terrorism.
Tanzania and Burundi were absent from the talks, and The Citizen has reliably learnt that Tanzania was not invited despite its readiness to participate in regional security meetings.
The agreement signed in Kigali seeks to address the security challenges that may come with the free movement of people in the region.
Defence ministers James Kabarebe of Rwanda, Crispus Kiyonga of Uganda and Raychelle Omamo of Kenya signed the agreement, whose details were, however, not made public.  Also present were Rwandan Internal security minister Musa Fazil Harerimana and his Ugandan and Kenyan counterparts, Mr Aronda Nyakairima and Mr Joseph ole Lenku, respectively.
Tanzania's defence docket is currently vacant following last month's sacking of Mr Shamsi Vuai Nahodha and three other ministers after agencies under their watch were implicated in atrocities committed during Operesheni Tokomeza launched to curb the slaughter of elephants in national parks and game reserves.
But the Tanzania People's Defence Forces (TPDF) spokesperson, Major Erick Komba, told The Citizen that if the meeting was part of the EAC integration process, then the Chief of Defence Forces, General Davis Mwamunyange, would have attended.
"If it was an issue that has something to do with integration, TPDF would surely have been represented,'' he said.
The Kigali meeting was also attended by police chiefs from the three nations, but police spokesperson Advera Senso referred The Citizen to the organisers when asked if Inspector General of Police Ernest Mangu was invited.
"Get in touch with organisers of the meeting.  They are the ones who can tell you what the agenda was and why we did not attend,'' she said.
Asked if Tanzania and Burundi were invited, EAC Secretary General Richard Sezibera declined to comment, and asked this reporter to contact the two countries' governments.
"Just ask the governments of Tanzania or Burundi if they were invited or not…they will give you an appropriate answer,'' he said.
Reached for comment, East African Cooperation deputy minister Abdallah Juma Saadalla said Tanzania was not invited to the meeting.
"We weren't invited…we have already signed the EAC Defence and Security Protocol, which has yet to be ratified.  Whatever our fellow members are doing is outside the integration process,'' he said.