Kenya's Ruto wants East Africa federation plans expedited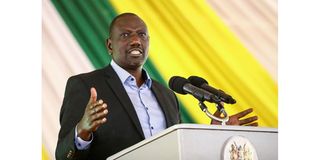 Summary
President Ruto said the East Africans were keen on the confederation idea "well ahead of their national governments".
Arusha. President William Ruto of Kenya has called for fast-tracking the East African political federation's plans.
He suggested the first draft of the Constitution for the desired political union should be ready by June next year.
The Kenyan leader made the appeal in Nairobi on Wednesday when speaking to members of the Committee of Experts.
The experts drawn from the partner states have been tasked with drafting the Constitution for the East African Community (EAC) Political Confederation.
The committee, chaired by Uganda's retired Chief Justice Benjamin Odoki, is currently collecting views from stakeholders and opinion leaders in Kenya.
"The process should be fast-tracked so that we have the first draft of the Constitution by the end of June 2024," he said.
President Ruto said the East Africans were keen on the confederation idea "well ahead of their national governments".
He added, "East Africans wanted to live together and do business regardless of their national boundaries".
Given the desire, the EAC partner states should endeavour to catch up with the endeavour and actualize the political confederation "as fast as possible".
The EAC political federation idea was conceived way back in the early 1960s by the bloc's founding fathers.
President Ruto pledged that the Kenyan government would give $1 million to the EAC Secretariat to support national consultations on Political Confederation being conducted by committee.
He also pledged to convince the other partner states to also contribute so that the process of drafting the constitution is finished in time as directed by the Summit.
President Ruto noted that integration would provide a bigger market for the goods and services produced by the people of the region.
For his part, Justice Odoki, Chairperson of the Committee, said the committee has concluded stakeholders' consultations in Burundi and Uganda.
"I can confidently tell you that we are trailing behind the citizens' wishes in terms of the need for political integration, but we hope we will catch up," he said.
The Political Federation is the ultimate pillar in the EAC integration process, being preceded by the Customs Union, Common Market and Monetary Union in that order.
The Summit of EAC Heads of State in May 2017 adopted a Political Confederation as the transitional model to the Political Federation.