Puzzle as East Africa oil pipeline land owners are nowhere to be seen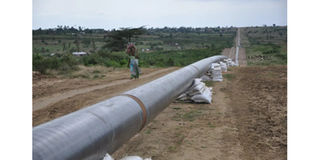 What you need to know:
Until this week, there were 113 untraceable landowners in Uganda.
The peculiar design of replacement houses for people that were displaced by Eacop is part of the scenery along the pipeline's route for most of its 296km length in Uganda, except in Kakumiro District, where the absentee landlords own large swathes of land.
As the project enters a defining period of construction during which the contractor demands 100 percent right of way, it is still grappling with the issue of absentee landlords to find and compensate, or take over the land with suspended payment via an escrow account, a scenario which property experts say creates residual problems.
Until this week, there were 113 untraceable landowners in Uganda.
Eacop is also yet to resolve all land valuation disputes, which could stall construction of the pipeline as the contractor demands 100 percent right of way for the entire stretch of the project in Uganda.
Official records show that the company has signed compensation agreements with 98 percent of project affected persons (PAPs).
"The two percent remaining before we can secure 100 percent right of way are absentee PAPs and those that require supplementary valuation," said Fred Bazara, Eacop's Community Relations Coordinator for Land and Social issues.
The areas most affected by unresolved land valuation disputes are Kikuube and Kyotera districts; the former has two pipelines – the Kingfisher pipeline and Eacop – running through its territory, which land owners to hike the value of their land.
"Expectations of the PAPs were much higher in Kikuube because of this factor. So the landowners were pressing for a bargain. That became a challenge. For Kyotera, there were errors in compensation rates, which the PAPs rejected," Mr Bazara added.
So far, the Eacop Company has paid 90 percent of the project affected persons (PAPs) in Uganda, but officials say the remaining 10 percent is critical as it includes mostly absentee landlords who cannot be traced, as well as persons that were displaced but are yet to agree values for their land.
By contrast, in Tanzania, up to 99.8 percent of all PAPs and landowners, who number 9904, compared to Uganda's 3,660, according to official records, have been fully compensated.
In Uganda, 203 households were physically displaced, and of these 177 opted for replacement houses, while the rest chose cash compensation.
According to NewPlan, the company contracted to manage Eacop Resettlement Action Plan, the project will required access to over 1,109 hectares in Uganda, most of which – over 90 percent – relates to the 30-metre construction corridor for the export crude pipeline and above ground installations.
The remainder of the land was required for temporary construction facilities and access roads.
Compensation for absent PAPs and absentee landlords involves depositing awards into an interest-bearing escrow account until a claimant to the property appears and is verified.
Critics last week released reports that Eacop resettlement action plan, particularly relating to land, left the project affected persons worse off than before, with up to 96.6 percent of PAPs in Uganda who received replacement land in 2022 and 2023, failing to replace all the land they lost.
This is according to a report Socio-Economic Impact of Eacop Resettlement Activities, released by the African Institute for Energy Governance (Afiego) last week, which also claims that 78.1 percent of those affected consider compensation they received delayed, inadequate and unfair.
Afiego's Senior Communications Officer Diana Nabiruma says projects whose compensation that fail to address such concerns are in breach of the International Finance Corporation (IFC) performance standards on land acquisition.
The IFC performance standards are a measure by which companies that operate business in developing countries are held and required to manage environmental and social risks associated with their projects, to minimize adverse impact on communities.
Indeed, Michael Matovu Mirimu, a proprietor of Kabajjo Memorial junior School in Sembabule District, which was displaced by Eacop, says he signed compensation agreements in 2018 and only received replacement buildings this year, which left his business plan in tatters.
"The time lag caused a lot of disorganisation," he says. "Many students lost confidence in the school and left because there was no progress; we had an approved site plan which couldn't be developed and resorted to using temporary structures."
In 2018, Mirimu says his school had over 300 learners, but due to delayed compensation and uncertainty over the school's continued existence, enrolment plummeted below 200 students.
Another report by GreenFaith released last week also claims that at least 2,000 graves along the pipeline's route were "destroyed, interfered with or just disrespected" in Uganda and Tanzania, leaving many people traumatised.
But Eacop clarifies that out a total of 604 graves along the route, 549 were relocated, and those that were earth graves were replaced with cemented ones and people were given money for ceremonies performed during the relocation process.