Tackling trade hurdles between EAC, Indonesia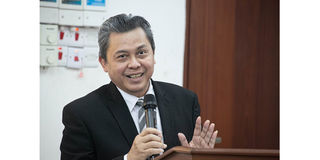 What you need to know:
Indonesia and East Africa may look like two distant destinations given the geographical distance between them. But there is a huge potential for trade and investments between them if some hurdles are tackled. Mr Triyogo Jatmiko (pictured), the Far East Asian Ambassador to Tanzania, discusses efforts underway to strengthen economic ties between the two blocs with The Citizen writer Zephania Ubwani. Excerpts;
Q. What's Indonesia's standing in the global economy?
A. We are not among the topmost economies in the world, but we are the 15th largest economy in the world and a member of the G20. Indonesia is currently the biggest economy in the Association of South-East Asian Nations (ASEAN). Last year, we exported goods and services worth $94 billion around the world. About 60 percent of our exports were confined to our neighbours in Asia. The United States, the world's largest economy, accounted for 14 percent of our exports, followed by Europe at 13 percent.
What can you say about your trade with Africa?
Africa accounted for only a fraction of our global trade last year. We exported goods worth $4.1 billion during this period. That translates to only three percent. North Africa led the pack with 34 percent, followed by West Africa (24 percent), East Africa (20 percent), Southern Africa (18 percent), and Central Africa at the tail end.
Why is trade between Indonesia and the EAC so low compared to other blocs on the continent?
Recent statistics may not be very promising because EAC imports from Indonesia have dropped by 31 percent in the past five years due, among other factors, to the outbreak of Covid-19. In 2017, the EAC imported goods and services worth $ 961.5 million, but that figure dropped to $ 635.5 million last year.But there is a potential for exports from the EAC following the rebound of economies from the impact of the pandemic.
Can you shed light on the market for EAC exports to your country?
Indonesia has been a traditional market for exports from the EAC for generations. They composed mainly fresh agricultural products such as cocoa, tobacco, coffee, tea, spices, raw hides and skins, vegetables and other horticultural produce, essential oils, and textile fibres, among others. The EAC's exports rose from $43.7 million in 2017 to $57.8 million in 2020. The figure dropped to $38.8 million last year.
Do you think the trade ties would bounce back to their former level?
Sure, there is a lot Indonesia can offer the EAC, and vice versa. The trend has been positive. And trade between Tanzania and Indonesia has been very positive compared to other EAC partner states. We are keen to cultivate more trade and investment ties with Tanzania during an investment conference to be held in Zanzibar from November 30th to December 1st. Last year, we exported goods and services worth $380 million to Tanzania against $50 million in imports.
Is the EAC competitive enough to trade with Indonesia?
Not quite. The potential is there; it's big, but we have not fully tapped it. After all, most of the goods from East Africa are of good (required) quality.
If that is the case, why is it that the EAC region has failed to tap the huge Indonesian market for its exports?
This is what I had wanted to say from the beginning. Among the hurdles are the high shipping costs from East Africa to Indonesia. This has been compounded by poor shipping connectivity between the two regions. There are no direct business transactions between the EAC and Indonesia. This has resulted in the use of intermediaries, or brokers in layman's terms. Most of these are based in Dubai, Abu Dhabi, and Malaysia. If there is a direct transaction, the (transaction) costs would be lower.
What do you think is another main hurdle hindering trade and economic ties between the two areas?
The bottom line, in my opinion, is that East African businesspeople have little exposure to the Indonesian market. It is rare to hear business people from the two sides interact. More so, it is not common for business delegations from the EAC to visit Indonesia to explore what our huge market can offer exporters from the EAC. What we should do now is enable the business people on both sides to intensify engagement because the potential is there. Indonesia is also a gateway to the ASEAN market.