Fans in frenzy as Beyonce set to kick off concert tour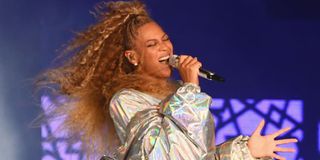 What you need to know:
The "Renaissance World Tour", announced in February after being teased last autumn, is the star's first solo tour since 2016
Stockholm. Ecstatic Beyonce fans sang and danced in feverish excitement in Stockholm Wednesday in the final countdown to the superstar kicking off her first solo tour in seven years.
Among the hundreds of people thronging outside the stadium to see the global music icon -- one of the world's best-selling artists -- were some who had travelled halfway around the world to catch the show.
Beyonce, who has a record 32 Grammy awards; is in the top 10 biggest grossing female artists. She is also a fashion icon, with designers queueing up for her attention.
Many of the fans in Stockholm sported cowboy hats and rhinestones that sparkled in the spring sun, mimicking the look of the iconic performer's outfit in the ads announcing the 57-stop European and North American tour.
Julie Vargas, who flew in from Houston, Texas -- Beyonce's home town -- confessed to having a "shrine" dedicated to the star at home.
"I don't want any spoilers, I wanted to be the first to see it and take the news back to H-town baby!," the 38-year-old surgical technologist told AFP.
"I love Beyonce, it's her style, it's her songs, it's the production, the choreography, it's everything," she added.
Gabriel Cardeal, a 27-year-old medical student, also crossed the Atlantic, from Brazil.
"She has not been there for so long and it's the first concert and we know nothing about it," he said.
"There's mystery around it, what she will sing, what she will wear, what clothes, what dances."
The "Renaissance World Tour", announced in February after being teased last autumn, is the star's first solo tour since 2016.
Tickets sold out so quickly for the opening show at the 60,000-capacity Friends Arena that tour organisers added a second for Thursday. From there, she goes to Brussels this weekend.
The tour, which continues until September, is expected to earn the international artist nearly $2.1 billion, according to business magazine Forbes. She is already a multi-millionaire.
"We love Beyonce, she's the Queen, that's why we are here of course," 36-year-old artist Kasher Bloom from Riga told AFP.
Jarra Jatta, a 21-year-old fan from Helsingborg in Sweden, said she had been queueing for hours -- but still wished she had turned up sooner.
"I'm late, I should have been here earlier to be honest. Anything to see her, witness her and her power," Jatta said.
"Beyonce is the Queen! Our mother, everything! I would do anything for her."
In February, Beyonce made history by becoming the most successful artist in the history of the Grammys, surpassing the late classical conductor Georg Solti's long-standing record of 31 lifetime trophies.
But despite winning another four Grammys, fans were disappointed that she missed out on the award for album of the year for her seventh studio album, the house-tinged "Renaissance". The 16-song 2022 album was an instant hit and earned wide praise for its deep ambition.
Born Beyonce Giselle Knowles, the now 41-year-old has been in the upper echelons of pop music since her teenage years.
She initially rose to fame as part of the Destiny's Child -- whose smash hits included "Survivor" and "Say My Name" -- before embarking on a wildly successful solo career.
From setting the standard for the overnight album drop to delivering her earth-shattering "Homecoming" show at Coachella in 2018, Beyonce has long bucked the industry's conventional wisdom. She is simultaneously one of music's most private and most-watched stars.
Her paradigm-shifting 2016 album "Lemonade," which emphasised Black womanhood against the backdrop of America's heritage of slavery and culture of oppression, remains one of the most venerated musical projects in recent memory.
Then she dropped the critically acclaimed song "Black Parade" in June 2020, amid nationwide protests ignited by the murder of an unarmed Black man, George Floyd, at the hands of a white police officer.