Kenya's Gachuhi: The new face in Bongo TV series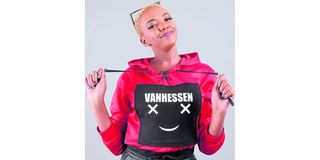 Summary
The Kenyan actress will star as Diana in the coming Bongo TV series 'Yalaiti'
A Kenyan sensational actress who's been at the top of her game in recent years, Celestine Gachuhi, is about to take the Tanzanian film industry by storm. Gachuhi is set to star in the local TV series 'Yalaiti' . If the name Gachuhi doesn't ring any bells, you might be more familiar with her on-screen persona, 'Selina', which is also the title of the popular Kenyan series which she stars in, airing on Maisha Magic East. 
The award-winning actress's journey began at an early age. Growing up, Gachuhi always felt a natural liking for the arts, including singing and acting.
In a one-on-one with The Beat, Gachuhi shares her exciting career journey:
My journey began from the time I was introduced to plays. I was in Forms Three and Four at that time. We would read books and act them out in front of other students, with the aim of making them remember the content. I used to get paid about Ksh500 after acting out the character from one of the stories. 
What's the most interesting thing about acting?
It lies in the ability to give a character life and how other people can relate to that character.
Being a wife, new mother, and actress must not be easy. How do you balance it all? 
I really do not know what I'm doing right now (chuckles). My baby is currently five months old. There is still the motherly guilt lingering when I'm not around him or when I travel for work, but I try to spend as much time as I can when I'm around him.
How was it for you to get into character with Selina?
At first, it was hard to speak the raw Swahili since in Nairobi we are more used to mixing Swahili and English. With time, I began to grasp things and speak the language better. 
What do you like about the character 'Selina'? 
I loved how resilient she is. I believe that she is a strong woman, however naive. Her naivety actually used to get on my nerves. 
If you were to comment on the movie industry in the region, what would you say?
I have been closely watching how our work gets to be on global platforms such as Showmax and Netflix. This means the industry is opening up as actors and actresses are getting global recognition and opportunities, which is really amazing. 
What are your career goals? 
I want to go to Hollywood. I want to one day be an icon like Viola Davis or Kerry Washington. Despite the fact that I am still crawling career wise, those are the levels I aim to reach. I want my future to inspire an African child that it's possible for one to become a global inspirational person no matter your background, your colour, or other aspects.
Who played the role of a mentor when you began? 
My family has always been supportive since the very beginning. However, my father was slightly worried about the person I would turn into when I began, so from time to time he insisted that I take care of myself. This made him my indirect mentor. He would always remind me of my strength and how the movie industry can be. 
How has that helped you to become the person you are today?
Having a support system is vital for career growth because it can help you even during times when you're sceptical about your work. It makes you feel complete and supported to face different challenges and blank work days. 
What are your thoughts on Tanzania? 
Tanzanians are very polite and they are very interesting, from the food to the people. In Kenya, we greet one another briefly, but I found it interesting how in Tanzania, the greeting extends beyond 'hello'.
How do you find the series 'Yalaiti'?
To be honest, I had never watched it before I came here. The story is interesting and broad. I got to meet actresses and actors I had never met before. I was also drawn in by the twist of the series and how I was brought in. I'm really excited. When I shared this news on my Instagram, the feedback was promising and it shows how fans are as excited as I am!
What should people expect from you as a character in Yalaiti?
(Laughs) Let's all wait and see how it turns out. I'm also waiting. It's better if we speak about it when it's already out there. 
Which Tanzanian talent would you like to work with in the future? 
Gertrude Mwita. I actually met her a few days ago. I believe her craft is incredible.
What's your take on the cross-border talent mix? 
It's an interesting perspective because not only does it help in expanding an artist's fan base, but it also helps make people see talent with different lessons and experiences blended together in one project, and that is truly amazing. 
With the number of African stories made in Africa increasing on global platforms, what should African countries do to tap into those particular platforms even more? 
This can be done by Africans telling their own stories. There are so many untold stories that can give the world a glimpse of who we truly are. Such stories discuss things that the world does not know about us.
Gachuhi expresses joy at getting back to the screen, starring as "Diana" in a Tanzanian production titled "Yalaiti."