Legendary Tale of Top Tanzanian Hip-Hop artiste AY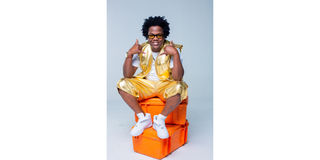 What you need to know:
The legend's history with music began when he joined Buff G and Snare to form a group called SOG
AY, who lastly released an album called 'Wave' on November 20, 2022, has a long history in the Bongo entertainment scene.
The legend's history with music began when he joined Buff G and Snare to form a group called SOG. The three of them were, at the time, students at Ifunda Tech Secondary School. When they finalized their school education in 1999, AY decided to move to Dar es Salaam, where the other two were based, so that they could all work on their music.
When he relocated to Dar es Salaam from Morogoro, AY only had a dream and a whole lot of hard work to make it come true. From the very beginning of his music journey, his intention was to become one of the best rappers in Tanzania. 25 years later, AY is living the dream.
As they were all hustling to create a name for themselves, AY and his group members took part in a competition called CBM Crew, which was coordinated by a Canadian fashion designer. They landed in second place and won an award that held a ticket to the making of an album, which was financed by the competition coordinator.
A short while later, they met GK, and their group expanded into a brotherhood named East Coast Team, which gathered other hip-hop talents, including Mwana FA and Oten.
"Around 2002, P Funk advised me to become a solo artist because I could sing and rap at the time. I asked my brothers, and they blessed me. In 2005, there was a misunderstanding that caused Mwana FA and me to part ways with the group. While we had different business visions, we are all still brothers," the rapper says.
His solo journey kicked off, and it was a pretty scene since the rapper had to learn the ropes of doing everything on his own. He sought motivation from rapper and record producer Dr. Dre, who is based in the United States of America.
"I have always liked his music, his lifestyle, and how supportive he is to other artists such as Kendrick Lamar, Snoop Dogg, Eminem, and 50 Cent. It was because of that that I formed Unit Entertainment in 2008. Through this, I manage artists and, at the same time, connect local and international artists. I have been able to work with almost 100 artists, both directly and indirectly," he explains.
AY is also known as 'Zee la Commercial', a name he was given by P Funk Majani, who had a habit of running a studio rapping competition. Rappers used to be given different kinds of beats to rap to, but AY was versatile with every kind of beat.
"My love for numbers is one of the things that drove me to turn my passion into a business. It is a beautiful thing to witness 1 turning into 10," he says rather proverbially.
He recalls a moment of realization when he first saw his hard work paying off.
"This was during my first four years as a solo artist. I had persistently released hits that ran the charts, yet none of my songs were recognized in both local and international award competitions. In 2005, I was nominated for Kora Awards in the category of Best East African Male Artist, and it opened recognition doors for me. One of the nominations that blew my mind was the MTV Africa Music Awards in 2009 in the category of Best Hip Hop, where I competed alongside Kanye West, Jay Z, and other icons," he narrates.
AY advises aspiring artists to invest in themselves because it pays off over time. He stresses that musicians should keep open minds, as this will guide them to their own elevation.
"Artists have to hold their own hands while they master the art of music before seeking assistance. While this will reveal both challenges and opportunities, it will also help reveal the kind of roads they desire to take. They should not wait for success to knock on their doors; they have to go for it," he says.
He also says that artists should not be selfish, because this would eventually lead other artists to close their windows whenever the particular selfish musician seeks help.
"On the other end, there should be competition between artists but not hatred. Aside from their professional rivalry, artists should still be on the same page. It is possible for the top seat in the game to have more than one talented person," AY emphasizes.