Nigerian star Davido and the unthinkable loss of his son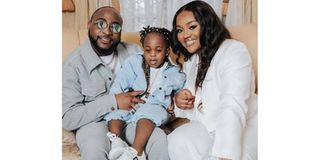 What you need to know:
Ifeanyi died just two weeks after celebrating his 3rd birthday on October 20. His death has thus left many distraught.
It is something that no parent should live to experience -- having to bury their own child. For Nigerian singer Davido, it has come rather too early.
On October 31, 2022, Africa learned of the shocking news of the death of Davido's 3-year-old son, Ifeanyi Adeleke.
The son of the global music star died from an apparent drowning in the swimming pool at the singer's house, according to police.
The singer, whose real name is David Adeleke, was not at his residence in Lagos at the time his son, Ifeanyi, died on Monday night. The child's mother, Chioma Rowland, was also away, according to Lagos police spokesman Ben Hundeyin.
The tragedy was felt across Africa and beyond, with celebrities showering the celebrity couple with messages of condolence. But beyond the sad news, the nature of Ifeanyi's case was another topic of discussion.
It was reported that Nigerian police went to Davido's residence after the tragic incident and arrested nine of his employees. The authorities were interviewing the pop star's members of staff who were at the residence during the time of the unthinkable tragedy.
By the time we went to press, which was four days after the death became public and was confirmed by police, neither parent had spoken publicly about their son's death.
Ifeanyi died just two weeks after celebrating his 3rd birthday on October 20. His death has thus left many distraught.
Davido, a global award-winning musician, 29, got engaged to Rowland, a popular chef, in 2019. The couple had said recently that they plan to marry next year.
Lagos Governor Babajide Sanwo-Olu expressed his condolences to Ifeanyi's parents, tweeting that "death leaves a heartache no words can heal."
Peter Obi, one of the leading contenders in Nigeria's presidential election next year, said he cannot "begin to imagine the pains" both parents are going through.
"No parents deserve what they are going through right now," Nigerian pop star Peter Okoye said of Davido and Rowland in an Instagram post.
This tragedy has raised wounds and bad memories of a similar incident that happened to another Nigerian star. In 2018, the one-year-old son of Nigerian musician D'Banj drowned in a pool at his home in the country's commercial capital, Lagos.