Women bossing the digital music space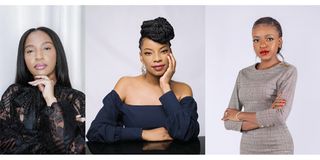 Summary
For Boomplay, Sony Music and ONErpm, representation of women is key in all aspects as is evident in their choice of leadership. These are women who have set their minds to reshaping the industry into an inclusive one
In any patriarchal-shaped and led industry, more often than not, technology reflects—and furthers—the inequalities they produce. The music industry is not immune to this, and while leaps are being taken to balance the scales, especially in leadership roles, a lot more can be done in the digital sphere to curb these conditioned gender-based digital inequalities.
The 2023 International Women's Day theme, 'DigitAll: Innovation and technology for gender equality' is such a loaded statement that, when broken down, can touch the core of every sector one can think of.
As we celebrate the global day of the woman, her accomplishments and every notable leap she has taken over centuries, the 2023 Rising Woman Initiative #SheCan is as historically symbolic as it is continuously optimistic about the milestones she is yet to overcome.
Tanzania, a country heavily reliant on patriarchy as the primary form of leadership, was shaken to the core when the first-ever female president took the reins. While many sat with mixed feelings about the country's direction, others saw this as an opportunity to challenge the status quo.
The president became a beacon of hope for those coming up and a source of validation, comfort and encouragement for those in active leadership roles. Several sectors in the country have seen a change of narrative since then.
In the music industry, clear stereotypical roles were deemed normal. This was, by and large, a sector in which men led, and women stripped and danced to the tunes set.
However, we now boast an array of women leaders and trendsetters in this sector, the likes of Natasha Stambuli, General Manager of Transsnet Music Tanzania, commonly known as Boomplay; Christine Seven Mosha, Director of Sony Music East Africa; and Alma Salum who is the Business Development Manager East Africa for ONErpm.
Speaking with The Citizen editor, Lucy Tomeka, Natasha Stambuli, Seven Mosha and Alma Salum share their journeys and the challenges they've faced going up the ladder to musical leadership. As sitting executives, they also have hopes and plans to use their power, skill and influence to shape the industry into one that is balanced and has proper female representation digitally.
Natasha Stambuli – Representation and inclusion throughout the chain are key
Barriers in any career are inescapable, and I have faced my fair share, especially as a woman. I am acutely aware of the gender-based inequalities and under-representation in the music industry, especially in Tanzania where artists and decision-making executives are concerned.
While it may sound like a broken record, focusing on my goals, hard work, and persistence carried me over these barriers. I also actively sought out mentors and advocates who could support me and provide guidance in every phase of my journey.
The nature of leadership in the music industry has traditionally been male-dominated, making it more challenging for women to enter leadership positions. However, there has been some progress in recent years as more women are entering leadership roles.
To address this issue of gender equality, we must take a multi-faceted approach that includes proactive measures and a willingness to listen and learn from our users and artists, as well as create more opportunities for women in the ecosystem.
Boomplay has taken decisive steps to ensure equality, break bias, and encourage diversity in the music industry. First of all, as charity begins at home, Boomplay is proud to be a music company that internally promotes and embraces gender equality.
On the operations side, we have many great women in leadership positions and at all levels in our executive teams at Boomplay. For instance, the General Managers in four of the six countries where we have a physical presence are female; our marketing, artist & media relations, business development directors and more are also female.
We also work to address digital gender-based inequalities by ensuring that our algorithms and recommendation systems are free from bias. We regularly review our systems to ensure that they are not perpetuating gender-based stereotypes or limiting the exposure of female artists. This means taking steps to diversify our recommendations, including female artists in curated playlists and ensuring that our algorithms are not reinforcing gender-based inequalities.
Representation is another crucial aspect that we prioritise. This includes featuring female artists prominently in our plat form, giving them opportunities to share their stories, and providing support to aspiring female musicians.
Achieving gender equality in the music industry requires a collaborative effort from all stakeholders, including record labels, promoters, and music streaming platforms like ours.
As we continue to tell Africa's story through music by being Africa's most affordable and reliable music service, we are committed to addressing digital gender-based inequalities and representation and creating a more inclusive music community for everyone.
Christine Seven Mosha: - Encouraging women to lead by example
The more I work within this industry the more I realise that the path to leadership for women isn't linear at any level. What I have found, that works for me, is leading by example and finding ways to empower younger women to dare to be different because the entertainment industry is not for the faint hearted.
It is up to us women who are in positions of power to reach out and extend all we have to help pull up our sisters and ensure that the women who are pursuing senior leadership roles know the endless possibilities awaiting them.
A good friend once asked me: "Can African women have it all?"
We live in a world full of stereotypes and gender roles. I often ponder on such questions and think about what women may want. Women want careers, leadership roles and success in life. I strongly believe that women want a fair shot at what 'having it all' means to them and not how it is defined for them.
So my message is to go out there and get what you want and deserve and not what you can have and let no one stop you or tell you different.
As part of the DigitAll: Innovation and technology for gender equality agenda, Sony Music Africa plans to actively seek and promote female artists in the region, as well as provide them with the necessary resources and support to succeed. We are committed to ensuring that women are given equal opportunities and platforms to showcase their talent, and we believe that technology can help us achieve this goal.
The belief that technology and innovation are powerful tools if used right is one of the drivers behind our commitment as Sony Music Africa to promote gender equality, advancing women's rights in the music industry.
We are excited about the possibilities that lie ahead and are looking forward to working towards a more inclusive and equitable future for all women in the music industry.
Alma Salum: Banking on the feminine superpowers
Men rule the nature of the music industry by far. There are a lot more male artist managers as compared to females. Perhaps it's because of the perception that women are weak, which is false.
Thankfully, that has never affected my pursuit of leadership in this sector. I am the Business Development Manager for East Africa for the music distribution company ONErpm, headquartered in the USA.
Comparing the industry now to three years back, we have significantly advanced. Men now understand women's role in bringing out societal development. It is well-known that women are more organised, ambitious, brave, strong and hard workers without forgetting heavy multi-taskers. Giving equal roles to women means advancing simultaneously on multiple levels.
As a leaders in this sector, I am highly committed to addressing digital gender-based inequalities and representation in the music industry. Some of the ways that I work to balance these issues include supporting female artists through making conscious efforts to sign and promote female artists and provide them equal opportunities to succeed.
We also encourage and promote diverse representation in all aspects of the music chain. This means ensuring that women and individuals from all backgrounds have equal opportunities to participate in every part of the music value chain, from production to distribution.
Celebrating the woman today is not just about recognising her accomplishments. Today is another chance to take stock and fine-tune our road maps and where necessary, create new ones to get us to where we should be, if we have any shot at all of balancing the scales.