Why Tanzania needs a smarter,all combating anti-poaching drive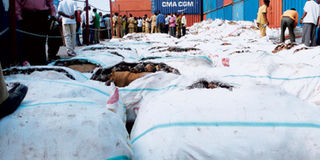 What you need to know:
When the operation was suspended in the first week of November, 952 suspected poachers had already been  arrested and 104 pieces of ivory seized


10,000; The number of weapons seized during the 1989/1990 Operation Uhai, a successful anti-poaching operation that was conducted in the Selous Game Reserve. About 700 poachers were arrested during the operation.

 
Under normal circumstances, the minister would have felt frustrated when the anti-poaching operation was suspended after MPs complained about human rights violations in the course of the operation
Dar es Salaam. The recent suspension of the anti-poaching operation code-named Tokomeza appears not to have disheartened the Minister for Natural Resources and Tourism, Ambassador Khamis Kagasheki. He remains in the frontline, leading to volumes of elephant tusks being seized by authorities in Dar es Salaam and Zanzibar.
Under normal circumstances, the minister would have felt frustrated when the anti-poaching operation was suspended after MPs complained about human rights violations in the course of the operation. But the seasoned diplomat probably goes by the saying that pioneers are the ones who get bitten by snakes.
Mr Kagasheki is still urging people with information on the smuggling networks to come forward and tell the authorities what they know in order to curb the illegal trade.
Poaching in Tanzania has reached alarming proportions.  Some 797 tusks were seized in three recent raids, indicating that about 400 elephants were slaughtered for their tusks.
On November 7, 2013, President Jakaya Kikwete said poaching of elephants in Tanzania was upsetting and vowed that no stone would be left unturned in the search for poachers.
Addressing Parliament in Dodoma, President Kikwete said the suspended Tokomeza (Wipe Out) anti-poaching operation involving the army, the police and other security organs would resume after the hitches were sorted out.
He added: "The problem (poaching) is frightening. A lot of ivory has been impounded inside and outside the country. In total, we are talking of about 36 tonnes of tusks, which equals around 15,000 elephants."
At independence in 1961, Tanzania had 350,000 elephants. This plummeted to about 55,000 in 1989. But an anti-poaching operation mounted in the 1980s resulted in the population of elephants rising to more than 100,000.
The authorities have asked the Frankfurt Zoological Society to carry out a census to establish the current elephant population.
When the operation was suspended in the first week of November, 952 suspected poachers had already been arrested and 104 pieces of ivory seized. The operation began on September 5. The Minister for Defence and National Service, Mr Shamsi Vuai Nahodha, said 631 firearms—including 13 military weapons—had been seized during the operation jointly conducted by the Tanzania People's Defence Forces, Tanzania Police Force and Tanzania National Parks. He said 1,458 rounds of ammunition were also seized.
Poachers kill an estimated 30 elephants every day in Tanzania, or about 850 every month. The number of elephants dropped from 130,000 in 2002 to 109,000 in 2009 and wildlife experts have warned that the entire population could be wiped out by 2020 if the trend continues.
Stakeholders in wildlife conservation have reacted angrily to the suspension of the operation. Mr Eric Pasanisi, chairman of Tanzania Hunting Operators Association (Tahoa), said his association fully supported Mr  Kagasheki's crusade. "We recognise the courage of the minister in fighting poaching," he said. "Tahoa fully supports his efforts to protect the elephants.  We hope this operation will resume."
In an interview with The Citizen, the chairman of the US-based Conservation Force, Mr John J. Jackson III said: "No, it is time to step up anti-poaching efforts like never before."
He wants the penalties raised and the law vigorously enforced.  Mr Jackson added: "It is time to take extraordinary measures to protect the resources of the people of Tanzania and their children."
Mr Gerald Bigurube, Programme Manager at the Frankfurt Zoological Society's Africa regional office, is also in the "no" camp.  "Elephant poaching has steadily risen in the past years until it reached crisis level. You need unconventional means to avert a crisis and an operation is one such means."
Mr Bigurube, a former director general at Tanzania National Parks, said all operations have shortcomings because they are emergency measures. He added:  "There will always be anomalies during operations but the way to deal with them is not to stop the operation. Rather, you correct the anomalies and let the operation run its course and realise the intended objective."
Stopping the operation just means  all the investment go to waste, he added, and operations are generally expensive.
Given that the rise in poaching has been blamed on highly placed personalities, stopping the operation suggests that those high level suspects may have felt threatened and could be behind the stoppage.
According to Mr Bigurube, many Tanzanians do not understand the value of their natural resources, including wildlife.  While minerals and other extractable resources dwindle over time, leading to wild price fluctuations, the value of wildlife resources keeps appreciating.
"We should value and protect such resources since they offer the best return in the long term," the wildlife biologist added. "Even industries that are associated with these natural resources keep flourishing and increase year after year. They include hotels, lodges, tour operation, aviation, airports and so on." 
But the natural resources on which all these developments hang are not adequately protected for lack of funding and other important support services.
Tanzania reportedly has the best protected areas in Africa in terms of abundance, diversity and attractiveness. "We should recognise the value and importance of these resources and invest more in their upkeep," he added.
Mr Bigurube took part in Operation Uhai, the 1989/90 anti-poaching campaign in the Selous Game Reserve. The security situation improved tremendously after that operation and funding for conservation also rose. 
"That  funding started to go down again to a level today where these protected areas make more money but only a little goes back to secure them," he said. "We need to recognise that we have valuable natural resources—green gold—which  we need to care for and we should invest in their upkeep as this is what makes sense economically."
Tanzania is putting in place mechanisms that will enable revenue generation and retention by independent bodies/agencies/ parastatal institutions.  "This is the way to go," said Mr Bigurube, adding that in terms of national parks, Tanzania is the only country in the world whose national parks authority  finances itself and does not seek  government subsidies.
But conservation institutions in Tanzania have responsibilities that far outweigh their finances.  "We should strive to support our protected area systems so that they can do their jobs well," he said. "They need to be helped to become paramilitary as soon as possible and they should be allowed to use all the income they generate to protect the areas they manage and develop the necessary infrastructure to support tourism."
Moreover, taxation and other monetary extractions should be stopped. This way, the management authorities of protected areas will be able to recruit and retain well trained, motivated and capable staff to safeguard the natural resources and be effective in preventing runaway poaching.
Investigations by the Environmental Investigation Agency in 2007 cited the complicity of a range of government officials in the illegal trade.
The proportion of elephant mortality attributed to illegal killing shot from 18 per cent in 2004 to 63 per cent in 2009. Aerial observations in one sector of the park in 2008 recorded 53 recently poached elephants compared with 18 the previous year, according to the EIA findings.
In 1988, Tanzania launched a major anti-poaching initiative called Operation Uhai. The combined effort of wildlife rangers, police officers and the military rapidly brought an end to most poaching in the country.
The operation was jointly conducted by the Tanzania Police Force, Customs, the Tanzania People's Defence Forces and the Wildlife Division in the ministry of Natural Resources and Tourism. It led to the arrest and prosecution of 700 poachers and the seizure of more than 10,000 weapons. The number of elephants had dropped dramatically from 184,000 in 1977 to 80,000 in 1987. The operation was overseen by the no-nonsense director of wildlife then, Costa Mlay.
This operation was magnified by a decision taken during the Washington Convention in 1989 that put in Annex I the ivory trade, resulting in a drop in poaching. Tanzania also teamed up with six other countries in successfully petitioning for the listing of the African elephant as an Appendix 1 species (those threatened by extinction) at the International Trade in Endangered Species (CITES).
This ruling effectively banned all international trade in elephants and their products. Publicity surrounding the issue turned public sentiment so far against the ivory trade that it nearly eliminated demand for ivory worldwide and most poaching stopped abruptly in response.
Western nations helped maintain the peace by pouring large sums of aid into anti-poaching efforts throughout Africa. Collectively, this was probably the most effective act of international wildlife legislation in history, and public pressure was instrumental to its success.
In fighting poaching today, Tanzanians should recall the Arusha Manifesto launched by founding President Julius Nyerere in 1961. He said then:  "The survival of wildlife is a matter of grave concern to all of us in Africa. These wild creatures amid the wild places they inhabit are not only a source of wonder and inspiration, but are integral part of our natural resources and of our future livelihood and wellbeing.
"In accepting trusteeship of our wildlife, we solemnly declare that we will do everything in our power to make sure that our children's grandchildren will be able to enjoy this rich and precious inheritance.
"The conservation of wildlife and wild places calls for specialist knowledge, trained manpower and money and we look to other nations to co-operate with us in this important task, the success or failure of which not only affects the continent of Africa but the rest of the world as well."