Aging population poses grave risks to Korea's economic growth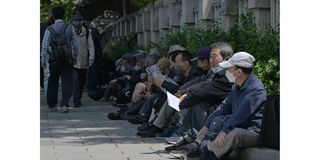 Korea's demographic crisis, fueled by a plunging birthrate and rapidly-aging population, will wreak havoc on its economy in the coming years, according to global credit ratings agencies.
They warn that Asia's fourth-largest economy will face rating downgrades by 2050 unless it averts the ongoing population decline.
In recent reports and media interviews, the agencies, including S&P, Moody's and Fitch, said worsening demographics will severely impact the sovereign credit ratings of major countries. Higher interest rates, in combination with escalating pension and health care costs, are forecast to put a heavy burden on those countries' finances.
S&P pointed out that approximately half of the world's largest economies would be downgraded to junk status by 2060 if no measures are taken to alleviate the costs of aging populations. The agency also estimated that without reforms to fiscal policy related to aging, the typical government would run a deficit amounting to 9.1 percent of gross domestic product (GDP) by 2060.
Fitch said Korea, Taiwan and China are some of the countries with the worst outlooks.
"The economically productive population, which plays a central role in the economy, is decreasing while the population to be supported is soaring. This leads to an increased financial burden and a decrease in future investments, which seems to be harming economic vitality, thereby adversely affecting the GDP," said Yu Jin-seong, a senior researcher from the Korea Economic Research Institute (KERI).
Statistics Korea forecast the nation's population will decline to 37.65 million in 2070, a 27 percent decrease compared to 2020. It also said the proportion of the population aged 65 and above is expected to rise from 17.5 percent to 46.4 percent during this period. This aging rate is one of the highest in the world.
The country's birthrate was 0.78 in 2022, down sharply from 1.17 in 2016. The figure, meaning that far less than one baby is born to a woman on average, was the lowest since 1970 when the agency began collecting the data. It is said that the birthrate should be at least 2.1 to maintain the current population.
David Coleman, a demographics professor at the University of Oxford, issued a stark warning that "Korea faces a danger of extinction by 2750 at this rate," during a symposium in Seoul on Wednesday.
A recent analysis by KERI revealed that Korea's GDP will plunge by 28.38 percent in 2050 compared to 2022, assuming all other factors remain constant.
To make matters worse, Korea's fiscal burden associated with aging is expected to continue growing. The country's national pension fund is anticipated to be depleted by 2055. If the current system is maintained, the national debt is unavoidably set to snowball.
Experts have urged the government to come up with swift measures to improve the productivity of the Korean economy.
Cho Young-tae, a professor at Seoul National University, said it is inevitable that Korea will continue to experience a rapid population aging. "To overcome such a situation, we should focus on increasing the productivity of the elderly," Cho said.
Lee Jae-joon, a senior researcher from Korean Development Institute, said, "The fundamental approach to addressing aging should be to compensate for the decrease in labor supply by utilizing the elderly workforce. And ultimately, we need to concentrate on the enhancement of human capital and the improvement of productivity within the labor force."
Lee added, "The aging phenomenon we are currently facing is progressing exceptionally quickly. However, it appears that policy responses and system improvements are unable to keep up with this speed."