Antibiotic pill after sex to prevent STI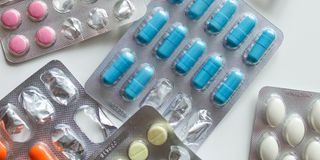 Washington. Amid soaring rates of chlamydia, gonorrhea and syphilis, US health authorities on Monday proposed that doctors begin prescribing a common antibiotic as a pill taken after sex, despite concerns over fueling more resistant strains.
DoxyPEP, or doxycycline used as a post-exposure prophylaxis, was found to cut the risk of developing these infections in clinical trials involving men who have sex with men and transgender women who engaged in condomless sex.
Draft guidelines developed by the Centers for Disease Control and Prevention (CDC) accordingly target only these higher risk groups, out of concern a broader recommendation could drive the rise of superbugs.
"Innovation and creativity matter in public health, and more tools are desperately needed," Jonathan Mermin, who leads STI prevention at the CDC, told AFP ahead of the announcement.
The guidelines recommend a single 200 mg pill taken orally within 72 hours of a sexual encounter.
Reported cases of the three bacterial infections rose to 2.5 million in the United States in 2021, a further spike following about a decade of growth.
Several issues are behind the trend: fewer people are using condoms since the advent of PrEP -- daily pills that significantly reduce chances of contracting HIV.
Another potential driver of the spike is that people who are on PrEP are recommended to undergo health screenings every three months, likely increasing the identification of infections.
There is also the basic epidemiological fact that the greater the number of people infected, the more they can further infect.
Researchers have found DoxyPEP efficacious in three of four trials.
"What we found was there was about a two-thirds reduction in sexually transmitted infection every three months," Annie Luetkemeyer, who co-led a US trial, told AFP.
The physician-scientist at the University of California, San Francisco recruited some 500 people in San Francisco and Seattle among communities of men who have sex with men and transgender women.
The drug's efficacy was greatest against chlamydia and syphilis, both of which were reduced by about 80 percent, while for gonorrhea it was about 55 percent. There were few side effects.
Broadening access to doxycycline has prompted concerns about causing antibiotic resistance, particularly in gonorrhea, which is fast mutating. But early research hasn't found cause for alarm.
Connie Celum of the University of Washington, who co-led the US study, told AFP researchers that tested gonorrhea samples from breakthrough infections -- when people contracted the diseases despite taking the antibiotic -- in the DoxyPEP group and compared them to the group who didn't receive the pill.
Though they found the rate of resistant gonorrhea slightly higher in the DoxyPEP group, she said the finding could simply mean the pill is less effective against already resistant strains, rather than causing that resistance.
DoxyPEP could even boost better antibiotic practices.
If the preventative treatment were to slash gonorrhea cases by some 50 percent, it could reduce the number of people requiring antibiotic treatment with the current frontline treatment drug, ceftriaxone, whose efficacy which doctors are eager to preserve.
Longer term study is required, on both impacts on STIs but also "bystander" bacteria such as Staphylococcus aureus, which live inside people's noses but sometimes cause serious infections.