Israel takes Gaza port, battles Hamas fighters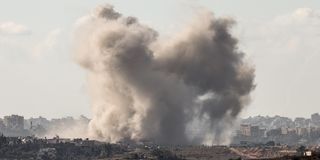 What you need to know:
The Israeli army said Thursday its troops had taken "operational control" of the port at Gaza City in the territory's north, showing at least a dozen tanks and groups of soldiers massed on the coast near Gaza City.
Israeli troops on Thursday advanced their campaign to destroy Hamas in Gaza, fighting gun battles and taking control of a key port a day after a raid on the territory's main hospital.
The ground campaign has taken aim at key sites like Gaza government buildings and infrastructure, but also the Al-Shifa hospital that Israel says sits atop a Hamas command centre -- a charge the group denies.
Bombardment thundered and gunfire rattled in besieged Gaza, AFP live video showed, while Israel's ambassador the United Nations branded as "meaningless" a UN Security Council resolution calling for "extended" pauses in fighting.
The Israeli army said Thursday its troops had taken "operational control" of the port at Gaza City in the territory's north, showing at least a dozen tanks and groups of soldiers massed on the coast near Gaza City.
Israel has concentrated its heavy bombardment and ground offensive in Gaza City, announcing this week the seizure of the parliament building, government offices and Hamas police headquarters.
Israel has vowed to eradicate Hamas in retaliation for the attacks of October 7, which killed 1,200 people, most of them civilians, and saw about 240 people hostage, according to Israeli officials.
The Israeli military says 51 of its troops have been killed in Gaza since fighting began.
But with the Hamas-run health ministry saying the death toll from the offensive has now topped 11,500, including thousands of children, calls for a truce are mounting.
EU foreign policy chief Josep Borrell, on an Israel visit Thursday, called for the hostages to be immediately freed, but also urged Israel "not to be consumed by rage" in its battle with Hamas.
The military said late Wednesday that it launched an additional operation at Al-Shifa, hours after a pre-dawn raid that Israeli forces said uncovered rifles, ammunition and explosives from the compound.
Both Israel and its top ally the United States say Hamas has built tunnels below the Al-Shifa complex, which has become a focal point in the war.
The Palestinian militant group and directors at the hospital have denied the charge, and Hamas also rejected reports of weapons being at the site.
Before Israel first sent troops into the hospital complex on Wednesday, UN agencies estimated that 2,300 patients, staff and displaced civilians were sheltering at Al-Shifa.
'Meaningless' UN resolution
The UN Security Council on Wednesday set aside deep divisions over the conflict to agree a resolution calling for "urgent and extended humanitarian pauses" in fighting.
The resolution -- which passed with abstentions from the United States, Britain and Russia -- called on Hamas and Israel to protect civilians, "especially children".
Israel has agreed to temporary localised pauses in fighting, but has rejected calls for a broader ceasefire.
"The @UN Security Council's resolution is disconnected from reality and is meaningless," Israel's Ambassador to the United Nations, Gilad Erdan, wrote on X.
He also reiterated the Israeli government's war aims, saying: "Israel will continue to act until Hamas is destroyed and the hostages are returned."
The Israeli foreign ministry called Thursday on the Security Council and the international community to "stand firm on the prompt release" of all the kidnapped.
"Extended humanitarian pauses are untenable as long as 239 abductees remain in the hands of Hamas terrorists," it said.
Israel's army claimed an initial raid in Al-Shifa had uncovered military equipment, weapons and what spokesman Daniel Hagari described as "an operational headquarters with comms equipment".
A video narrated by another Israeli army spokesman showed rifles, ammunition and ammo magazines inside an area he identified as Al-Shifa's MRI scanner building.
"This was hidden very conveniently, secretly behind the MRI machine, said the spokesman, Jonathan Conricus.
The health ministry in Hamas-run Gaza argued Wednesday the Israeli military did not find any weapons when it raided the hospital.
The death and suffering in the densely populated coastal territory has prompted growing concern for Gaza's civilians, who have fled south to try to escape the heaviest fighting.
Gaza City's Al-Quds Hospital was evacuated during the heavy fighting in the area, forcing patients to make their way south to other facilities.
"We were in pain along the road... I feel pain in the knee," said Ahmad Abou-Sabra, wounded evacuee.
"The situation was bad, and the distance. We stayed in the army (checkpoint) for more than two hours," he told AFP at at a Palestinian Red Crescent hospital in Khan Yunis.
'Mildly hopeful' on hostage talks
UN human rights chief Volker Turk pointed to what he called serious allegations of international law violations in the Israel-Hamas war and suggested an international investigation was needed.
"Where national authorities prove unwilling or unable to carry out such investigations, and where there are contested narratives on particularly significant incidents, international investigation is called for," he said in a briefing to UN member states in Geneva.
But polls in Israel show widespread public support for military action against Hamas following the October 7 attacks, the worst in the country's history.
Prime Minister Benjamin Netanyahu on Wednesday boasted there was no safe place for Hamas and "no place in Gaza" the army would not reach.
"They told us we wouldn't reach the outskirts of Gaza City and we did, they told us we wouldn't enter Al-Shifa and we did," he said.
But Netanyahu, who has led Israel on-and-off for 16 years, is under intense domestic pressure to account for political and security failings surrounding the attack.
Protesters have taken to the streets demanding greater efforts to free the hostages.
Qatar, which hosts a Hamas political office and also has communication channels with Israel, has meanwhile led negotiations for the release of the hostages.
Speaking to reporters on Wednesday, Biden said he was "mildly hopeful" there would be a deal.
"I don't want to get ahead of myself here because I don't know what's happened in the last four hours, but we have gotten great cooperation from the Qataris," he said when asked about progress on freeing the hostages.